Dentist celebrates 25 years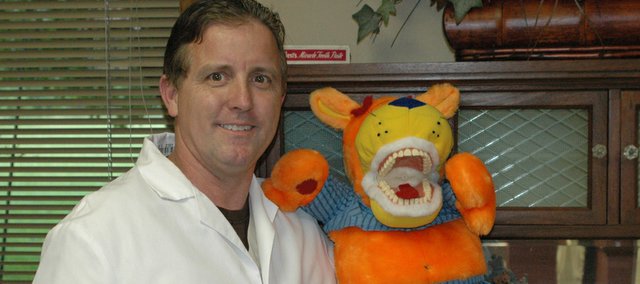 John Williamson got into dentistry because he liked to see people smile.
When he was a seventh grader in south Kansas City, Mo., he was given an assignment to determine three professions he was interested in and write a paper on each. His choices: scientist, forest ranger and dentist.
"I had very good dentists as a child," he said. "… I just like smiles, and it's something I thought would be a fun profession."
Twenty-five years after Williamson received his dentistry degree from the University of Missouri, he hasn't found any evidence to disprove that original belief. Williamson will celebrate his 25-year career, 15 of those years in Edwardsville, throughout the month of June with special prizes and giveaways for his patients.
Williamson spent his first decade in dentistry at a practice in McLouth, but he wanted a practice of his own and searched for about six years. The Edwardsville practice of Lloyd Forrester was appealing both for its proximity — Williamson lives in western Shawnee — and for its longevity.
"I was looking for an established practice, and Dr. Forrester was an Edwardsville boy; he went to school here, graduated high school here," Williamson said. "He had great patients and was well-liked."
Williamson purchased the practice in 1998 but worked in both practices for the first two years.
"It was a hard decision to leave McLouth, because … the relationships I built there were hard to leave," he said.
When he first purchased the practice, Williamson was renting his space, but after about five years he purchased the building at 10601 Kaw Drive, which contains his practice as well as several other business suites.
During his time in Edwardsville, Williamson has become active in the community as a board member of the USD 204 Education Foundation and the Bonner Springs-Edwardsville Chamber of Commerce.
"It's been exciting to watch children that I started seeing when they were in elementary school graduate high school, go to high school, graduate from college, get married and now we're seeing their children," he said.
Williamson said he also is happy that Forrester's patients have liked him well enough to stay on and have been patients at the practice for 40 years.
"I love the practice, I love my patients — that's the best part about my job," he said. "I've never regretted coming to work."