Family not afraid to pay it forward after battle with cancer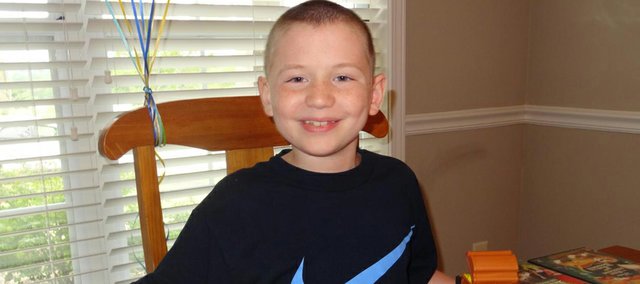 To Joe and Kendra Peterson donating to a good cause has become second nature.
From Autism Speaks to Children's Mercy Hospital and even community churches, the Petersons are always ready and willing to do their due diligence. They especially get involved when it comes to cases affected by cancer.
"We have firsthand knowledge and understand the stress," said Joe Peterson of the financial burden that comes with cancer treatment. "We know that every little bit helps (and) we're not afraid to pay it forward."
Unfortunately, the Bonner Springs family has experience with cancer cases because their autistic son Michael was diagnosed with leukemia at age eight back in February of 2011.
The news came after an attempted change in Michael's autism medication. The new pills were supposed to lower his white blood cell count, but after he was taken off of the medication, Michael's white blood cell count just kept dropping.
After a different blood test, the Petersons had their whole world flipped upside down.
"It was like a sock in the gut," said Kendra Peterson. "It was a blow, but we gave ourselves 48 hours to cry over it and then we said, 'What's our next step?'"
And that next step couldn't come quick enough.
Within a week, Michael was in chemo. The week after that delivered a staph infection that nearly killed him, but Michael eventually pulled through to complete radiation and later be told that he was in remission on March 18, 2011.
To ensure that the cancer had less likelihood of returning, Michael then had a bone-marrow transplant on May 26, 2011 and is reported to be healthy thus far and to have just completed his first full-time school year since the diagnosis.
Throughout this emotional roller coaster, the Petersons said that they were given immense support from family, friends, neighbors, and even strangers and cite this as the reason for their generosity in donations to others.
An example of this support comes from Carolyn Maska, Kendra's mother, who took a leave of absence from her job for eight months to assist the family, essentially saving Kendra's job.
"In (situations) like this, you find the best in people," said Joe.
Now the Petersons believe it is their turn to support those in similar situations and are preparing for this year's Kaw Valley Relay for Life, going on at 7 p.m. Friday, June 14, at Bonner Springs High School, 100 McDanield St.
Another change includes Joe Peterson actually speaking over the course of the night about Michael's journey before the luminaries are lighted.
 "(Relay) really helps you put things into perspective. It makes you think that the littlest things in the world are nothing compared to what our son has gone through," said Joe of the American Cancer Society's event.
So far the Petersons report to have raised more than $1,000 and plan to "kick it up a notch" from last year's festivities with a professionally done banner for their team — Team Michael.
"If we can make it through this," Kendra said, "there's nothing we can't do."