Photo Gallery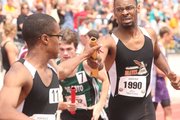 Sights from Basehor-Linwood and Bonner Springs student-athletes competing in the May 24-25 state track and field championship meet at Cessna Stadium in Wichita.
Wichita — As Basehor-Linwood's Ben Johnson readied himself for a final throw in the Class 4A discus event on Friday, he knew the throw could mean the difference between a second- and third-place medal. He also knew it meant much more.
Days away from reporting to Lawrence for summer classes and Kansas University football practices, Johnson prepared for a throw that would punctuate his BLHS athletic career.
"I feel like it just sank in to me on my last throw," Johnson said. "It just hit me that this was my last throw for track. I kind of teared up a little bit."
By the time his discus hit the dirt outside Wichita State's Cessna Stadium, Johnson's 153-foot, 10-inch throw earned him third place in one of 4A's toughest discus fields in years.
A year ago, Johnson traveled to Wichita assuming he'd sneak onto the awards stand with a seventh- or eighth-place mark. Instead, he earned what would be the first of two third-place medals.
But to repeat at this year's state track and field championships, he knew, would be a taller task. Just making it to state was an accomplishment as all four of the top 4A marks in regional competition came from the Baldwin City regional at which Johnson competed.
That regional field included Ottawa's Kord Ferguson, the eventual state champion with a 187-04 mark. And Baldwin's Dayton Valentine (168-08), the second-place finisher. Not to mention Ottawa's Michael Jensen, who finished behind Johnson Saturday.
If Johnson's 2012 medal was a welcome surprise, his 2013 medal meant just as much because of what it took to take it home.
"Knowing that I had to work pretty hard for this medal that makes it that more special," Johnson said.
The weekend served as a sendoff for several track teammates Johnson competed with since they were freshmen, including fellow seniors Trey Kincheloe and Lane Young.
"It hit me that this was really the last time I was going to get to hang out with those guys," Johnson said.
Johnson's final season was also former Kansas University star and Olympian Scott Russell's first season as BLHS head track and field coach. Russell looked on as Johnson finished his season at state, later tweeting a photo of the two in Wichita with the caption, "Thanks, Ben. Great year. Couldn't have asked more of you. Into my alma-mater, @KUAthletics."
Relay team returns
Sean Potter thought there was a large gap between the top four 4x800-meter relay teams and the rest of a field that included a BLHS team that hadn't qualified for state in years.
Potter and his teammates soon found that such gaps mean little when you set a new personal record by 10 seconds at regionals.
The 4x800-meter relay team of Potter, Johnny Fulkerson, Tanner Tavis and Mark Vitt represented BLHS in the event at state for the first time in more than a decade on Saturday, placing 15th in 8:48.31.
"It's crazy," Fulkerson said, "this is the biggest meet we've ever been in front of."
With all classifications represented and thousands of spectators inside Cessna Stadium, that's another record that promises to stand for some time.
"Your adrenaline's going crazy, that's for sure," Potter said. "And it makes you want to just look around, but you know you've got to stay focused."
All members of the Bobcats' 4x800 team are juniors, making a return trip well within the possibilities for a team that now knows what state feels like.
"Higher expectations for next year," Fulkerson said.
The BLHS boys 4x100-meter relay (Kincheloe, Young, Bryan Crowe and Alex Jackson) finished one-tenth of a second away from qualifying for the finals in the event during preliminaries on Friday. The Bobcats finished in 44.45 seconds, behind Rose Hill (44.35), placing ninth.
BLHS also sent a girls 4x100 team (Katelyn Hickman, Maecy Cooper, Sierra Smith, Marriah Clayton), which placed 14th in preliminaries (51.30).
Clayton competed in three events in Wichita, placing 10th in 100-meter dash preliminaries in 12.82 seconds on Saturday. Clayton (27.76 seconds) and Katelyn Hickman (27.87) placed 12th and 13th, respectively, in the girls 200-meter dash preliminaries.
Sierra Smith placed 10th in the girls triple jump (34-02.75) and Allison Heinen placed 13th (33-02.25) in the same event.