Soon-to-be
BSHS

seniors finish 4th, 6th in triple jump; boys 4x800 medals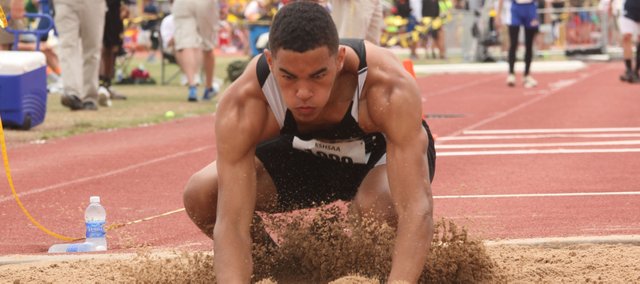 Photo Gallery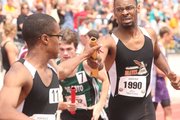 BLHS and BSHS at 2013 state track and field
Sights from Basehor-Linwood and Bonner Springs student-athletes competing in the May 24-25 state track and field championship meet at Cessna Stadium in Wichita.
Wichita — Jordan Jackson and Anthony Kubas have long shared a football field and basketball court together during their Bonner Springs High tenures. But pit them together in the triple jump, in which the two competed at Saturday's state track and field championships, conditions tend to tilt from teamwork to competition.
"I want him to do well," Jackson said, "but still want to beat him."
Kubas got the better of Jackson this time around, placing fourth (43-08.75) inside Wichita State's Cessna Stadium. Jackson, however, wasn't far behind, taking a sixth-place medal (43-07.5).
Kubas and Jackson actually stood beside one another on the awards stand after their final 2012-13 high school sporting event before preparing for senior seasons in football and basketball — summer football camp kicked off this week.
"We don't really get mad at each other," Kubas said, "but we just like to have a friendly competition all the time. That's what kept us trying to keep going."
It didn't hurt that each had been on this stage before, the trappings of one of the nation's largest high school track and field meets not as daunting this time. After the first heat, Kubas and Jackson had their names read throughout the stadium as the event's early leaders.
"It wasn't that new to us anymore, so we knew what was going on," Kubas said.
Added Jackson, "We knew after we jumped our third time where we stood so it gave us confidence knowing that we probably had a good chance of going into the finals."
Boys 4x800 medals
As far as swan songs go, Saturday couldn't have been much better for recent BSHS grad T.J. Kimbrough-French.
Kimbrough-French and fellow grad Brandon Moore teamed with Austin Schuler and William Scott to place seventh in the 4A boys 4x800-meter relay (8:15.44).
"It feels absolutely amazing to end off big," Kimbrough-French said. "It was a big hype booster when I got to pass off to second again like I did last year, but this time I was fully in second."
Sitting on a bench and awaiting their medals, Kimbrough-French credited BSHS boys coach Rob Marriott with assembling the right mix of runners to make for a success 4x800.
"Our coach knew what he was doing every step of the way," Kimbrough-French said. "He planned this entire thing out. Every race he planned what times we would get."
Didn't hurt that the connections among distance runners as BSHS go a long way.
"Between cross-country and track," Schuler said, "the bonds carry over."
Schuler, meanwhile, also placed 11th in the boys 800-meter run (2:04.84) on Saturday.
Also of note during Friday's opening day of competition, former BSHS pole vaulter Bethany Bailey captured a 2A state title in the event, doing so in record-breaking fashion.
Bailey returned to Maranatha Christian Academy in Shawnee after spending two years at BSHS. She set a new 2A meet record with an 11-foot, 5-inch vault.