Basehor-Linwood mentor program seeking more volunteers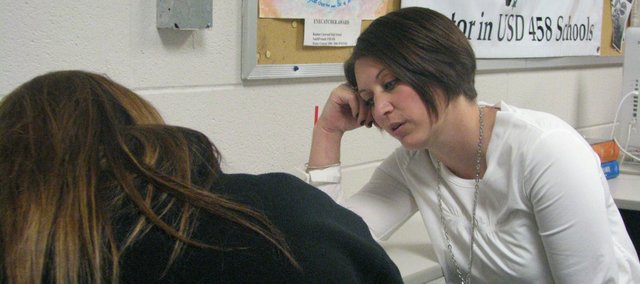 Jessica Langley isn't a mathematician, but sitting next to McKenzie Morche, a sophomore at Basehor-Linwood High School, Langley deciphers several algebra equations and digs deep into her past to remember the concepts.
Langley is a mentor in the Basehor-Linwood Mentors and Care Cats program, formerly known as the Basehor-Linwood USD 458 YouthFriends program. Langley is the mother of a two-year-old child and works full time as an executive director of education and provider markets for health care. Free time is not something Langley has an abundance of, but for the past two years she has made room for about an hour per week to meet with Morche.
"It's a minimal time commitment with a huge impact," Langley said.
This year, the Basehor-Linwood Mentors and CareCats has received a grant from the Kansas Department of Education worth $3,000 that covers Kansas Bureau of Investigation background screening checks for current and new mentors. In previous years, the program was partially funded by YouthFriends, which closed down last spring. District Coordinator Tammy Potts said the new grant provides plenty of room for the mentor program to grow and is looking for about 110 new volunteer mentors.
"When we are given any grant money, I want to make sure we use it all," Potts said. "This is our way of bringing community members into the classroom and I want to reach out to every person out there that may have an extra hour of time."
Currently, there are about 190 adults who volunteer for the program. Potts said that group is able to reach about 900 students per year throughout the district's seven schools, including the virtual school. Mentors, Potts said, are either paired with an individual student or can spend time in a classroom with several students, helping them with homework or projects. "You don't have to be a scholar, you just have to be a caring adult," Potts said.
Steven Pierce started volunteering four years ago after retiring from 36 years in the railroad industry in Kansas City, Kan. This year he is working with first graders and said every class he helps needs about three to four more volunteers.
"Every class needs one," Pierce said. "All you need is to care about kids and care about their education."
Along with mentors, the program also enlists juniors and seniors at BLHS as CareCats. CareCats are student mentors who also work with students from kindergarten through high school. Senior Cory McCleary is able to spend some of his school time teaching kindergartners how to read, write and spell.
"The best part is trying to get them to tell you a story, then they get excited and just keep adding on and adding on to the story," McCleary said.
Potts said she has about 182 students in the high schools acting as CareCats. Students in both the mentor and CareCats program are not selected based on need or learning level, Potts said, but rather parents of students or students themselves are able to request mentors and CareCats.
"We actually have our own little mentor army in here through CareCats," Potts said.
In January, posters of gratitude for mentors and CareCats made by students will travel to the state capitol to be portrayed during mentor month. The posters will also travel around the Basehor-Linwood School District. Morche says she has transferred among many schools before eventually finding a home at BLHS. She said she came here to live with her grandparents but recently lost her grandfather. Her mentor, Langley, has been there as an added support system since the loss and has helped her with more than just algebra homework.
"I know I can go to her," Morche said. "I really appreciate everything."