MISSION

ACCOMPLISHED

: Bobcat boys finish sixth at state
Schuler takes 20th, Walcott 34th in respective races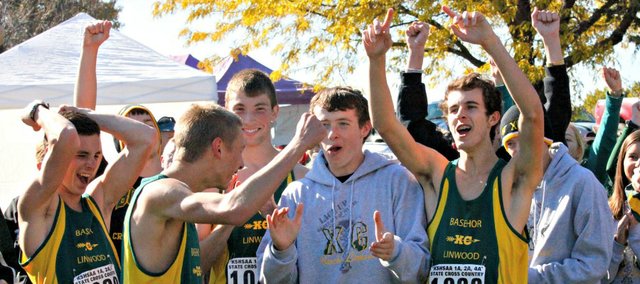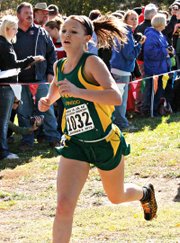 Wamego — In the week preceding Saturday's state cross country meet, the Basehor-Linwood boys weren't shy about their goal: a finish in the top half of the team standings. When race day finally arrived, the Bobcats delivered.
BLHS placed sixth out of 12th teams — its best finish in program history — in the Class 4A race at Wamego Country Club.
"I'm just so incredibly happy for these guys that have worked so long," coach Jeff Venema said. "This is years in the making to arrive at this moment, and the stage was not too big for them."
The Bobcats' previous state team, which ran a two-mile race in 1982, finished last in the team standings.
Venema's squad finished with 157 team points — just six behind a Wamego team it lost to by 34 at regionals. Baldwin won the meet with a score of 49, while Winfield (78), Mulvane (119) and De Soto (131) rounded out the top five.
Just like he has throughout the season, senior Luke McGowan led the Bobcats individually. He finished 22nd — a significant improvement from his 49th-place finish last year as an individual runner — with a time of 17:51.9.
Fellow seniors Tanner Tavis (37th, 18:13.3), Mark Vitt (41st, 18:16.96) and Johnny Fulkerson (47th, 18:20.37) joined McGowan in the top 50, and freshman Zach McKnight (64th, 18:42.31) rounded out team scoring.
"They ran extremely well and, for the most part, together," Venema said. "I'm just so proud of the awesomeness of these guys. They're just guys that get it done. They're seniors, largely, so this was their shot and they took it."
Juniors Casey Jones (87th, 19:27.23) and Jacob Cook (92nd, 19:51.37) also represented BLHS at the meet, but didn't factor into the final team standings.
The Bobcats' first state appearance in more than three decades got off to an unconventional start, as a rare re-start was needed when a runner went down just before the 100-meter cutoff near the starting line. But, according to McGowan, that might have helped BLHS in the long run.
"Anxiety was high, but we treated it like any other race," he said. "I think what actually helped us was the false start. We came back and had already gotten the jitters out."
The state performance marks the end of the line for McGowan, Tavis, Vitt and Fulkerson, who have run together for several years. Tavis, Vitt and Fulkerson began running together as eighth-graders, and McGowan joined the tandem when they were sophomores.
"We didn't just come to state, take last and say we made it," McGowan said. "We were actually able to come here and compete. It's cool to be able to say you've done that when your team hasn't been to state in 31 years."
Venema echoed those thoughts, saying it was the time put in during the offseason that ultimately led to one of the most successful seasons the team has ever had.
"They understand what it takes to be successful, then they actually do it," he said. "They get up at six in the morning on summer days and go running when their friends are asleep. There's no promise of a payoff, but they just kept doing it. They kept fighting to get better. When something like this day happens, you're so happy beacuse you know what it costs to get here."
Bobcat junior Quinnlyn Walcott was also in action Saturday after qualifying individually for the girls race at regionals. She finished 34th with a time of 16:54.29 — six spots higher and more than four seconds faster than her state time as a freshman in 2011 (16:58.53).
Bonner Springs senior Austin Schuler was the only Brave to qualify for state. Schuler came in 20th place with a time of 17:48.2. He shaved nearly two full seconds off his 44th-place time of 17:50 in last year's state meet.