Fall sports in review: Historic cross country season highlights Bobcats' fall campaign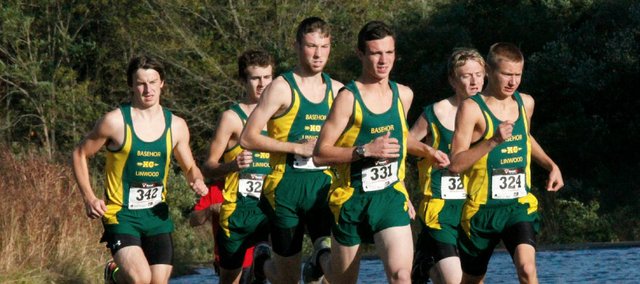 Four Basehor-Linwood runners' final cross country season ended at the state meet in Wamego, but preparation for the best season in school history started well before the 2013 preseason.
Seniors Luke McGowan, Mark Vitt, Johnny Fulkerson and Tanner Tavis assumed varsity roles as sophomores in 2011, and they didn't take long to embrace the challenge. They ran in the early hours of countless summer mornings while their friends were asleep. They logged mile after mile each fall — a task often reserved for punishment in other sports.
The hard work paid off when a third-place regional finish gave the Bobcats their first state bid since 1982. They didn't stop there, though, as they carded the top state finish in program history, coming in sixth at the Class 4A meet Nov. 2 at Wamego Country Club.
"Their reign has lasted three years," coach Jeff Venema said of the senior tandem. "They've left an indelible mark on the program and can rightly call themselves the best cross country team this school has every produced. That was their goal, and they did it."
Four of the team's top five runners have exhausted their eligibility, but the cupboard is hardly bare going into 2014. Freshman Zach McKnight returns as the team's top runner after finish fifth among BLHS runners at state.
Juniors Casey Jones and Jacob Cook also gained varsity experience throughout the season and, perhaps more importantly, will enter their senior year with the state meet fresh in their minds.
"They've now seen it and they want to go back," Venema said. "It's so exciting to be a part of. Hopefully it will push them through the hot summer months, but there are no promises."
Junior Quinnlyn Walcott returned to state, finishing 34th after missing the cut as a sophomore, but Venema said he hopes for more success by the Bobcat girls in the team ranks next fall. Walcott will lead the way as a senior, and Calder Hollond, Erin Leach and Marina Pebley are all back after running varsity as freshmen.
Venema must fill varsity spots previously held by seniors Rebecca Carroll, Ally Laney and Sara Rehm.
Girls golf
Senior Julie Lough was at or near the top of the Bobcats' individual standings at every meet this season, and she nearly ended her final high school campaign on the state's biggest stage. Lough missed qualifying for state by one spot at a Class 4A regional in Kansas City, Kan., coming in 17th with a score of 114.
Lough and fellow senior Candice Jennings led the Bobcats through a 2013 season primarily geared around breaking in new golfers. Lough, Jennings and junior Marriah Clayton were the only varsity golfers this season with previous experience, meaning sophomores Chandley Easley, Jordan Blackwood, Hanna Dickey, Maegan Cunningham and Lindsey Schubert spent most of the season learning on the fly.
The transition wasn't always rough, as each underclassman enjoyed some success throughout the season. Easley carded the best team score Sept. 25 at Spring Hill, and Blackwood followed suit a week later at Santa Fe Trail. Cunningham teamed up with Lough to take third at a two-person scramble Oct. 8 at Gardner-Edgerton. Dickey finished in the team's top-three at the last two tournament of the season.
"This was a true building year, and building is what the girls did," coach Bruce Courtney said. "Every girl out for golf worked very hard and got better.  If they continue to work like that during the offseason, we will have several very good golfers here next August."
Clayton will return as the team's most experienced golfer after lettering in 2012 and 2013.
Volleyball
Despite losing four members of last year's state team, the Bobcats posted a 23-16 record, including a 5-2 mark in Kaw Valley League play, and fell just one win short of a return to Salina.
BLHS won its first five matches of the season and went 6-2 in head-to-head duals, but wasn't quite as effective in a tournament setting. Its best tournament showing came Sept. 28 at the Louisburg Invitational, where it placed third.
The Bobcats won their sub-state opener at Tonganoxie, defeating host school THS in straight sets to reach the sub-state finals. They faced a Piper team they defeated twice in the regular season — first in a Sept. 14 meeting at the Lansing Invitational and again in a senior-night thriller at BLHS — but the Pirates got the last laugh, winning in three sets to punch their state ticket.
Coach Amy Irvin's squad must replace seniors Allison Heinen and Hailey Robinson in 2014. Heinen was one of the team's kill leaders all season, while Robinson was near the top of the team list in digs and service aces.
Several key pieces of this year's team return, including juniors Abbey Mellies, Bri Kennedy, Maddy Langford and sophomore Madi Osterhaus, who all had at least 120 kills this season. Setter Courtney Robinson and libero Jaime Weible, both sophomores, will also be back next fall.
Boys soccer
Even with a first-year head coach and a slew of underclassmen in the starting lineup, BLHS managed to extend its season past the first day of the postseason.
After going 5-11 in the regular season, the Bobcats hosted Maur Hill-Mount Academy in a regional play-in game on Oct. 29. Powered by junior Zach Ferguson's three goals, they cruised to an 8-2 win against the Ravens. Five Bobcats scored in the victory.
The win pitted BLHS against Piper in the regional semifinals the next day, but coach Erik Jones' squad couldn't avenge a 2-1 regular-season loss, dropping another 2-1 decision at PHS.
"It was a step in the right direction," Jones said of his first season. "We knew going in it would be a process, but I do think we got better."
Ferguson, a midfielder, returns as the team's leading scorer with 12 goals and also added eight assists in 2013. He'll look to lead a team that saw six freshmen play varsity time this fall. Other key contributors back next season include freshman goalkeeper Trevor Kincheloe and junior forward Tanner Brown.
Jones must replace seniors Eric Purrington, Jack Bergeron, Jacob Hicklin, Jeff Storms and Sean Potter.
Football
After posting 2-5 record through its first seven games, including a heartbreaking loss in overtime of its district opener, Basehor-Linwood's playoff chances looked slim, to say the least. But, a lopsided win at Perry-Lecompton and a tough first half at Tonganoxie kept the Bobcats in the hunt until the season's final minutes.
One week removed from a 36-35 loss to Jefferson West, BLHS staved off elimination with a 37-16 rout at PLHS, then squared off against the Chieftains in its regular-season finale. The Bobcats trailed by just a touchdown at halftime, but couldn't keep up late in a 29-14 loss.
"The fact that we had an opportunity to still make the playoffs really did speak well to the determination and the desire to 'finish well,' which is a focus in our program," coach Steve Hopkins said.
Tim Sanders, a first-year starter at quarterback, came on strong late in the year to give the Bobcats a shot at the postseason. He threw for 521 yards and seven touchdowns in district play.
Sanders was one of several offensive contributors in 2013, but the Bobcats will return a few pieces next falls. Sophomore running back Jahron McPherson, junior receiver Boston Henry and junior lineman Jared Hiss headline the list of offensive players back in 2014.
The Bobcats return much more on the defensive side of the ball, including juniors Dean Cochran and Tyler Kendrick — the leaders among returning tacklers with 43 apiece. Hiss also returns up front, while McPherson and junior Chase Unruh will look to lead the secondary.
"Every year you have turnover, but they have had good examples of leadership before them, and we hope each group sees the leaders before them, and now seeks to lead others," Hopkins said of this year's underclassmen.