New business offers items 'found on the corner'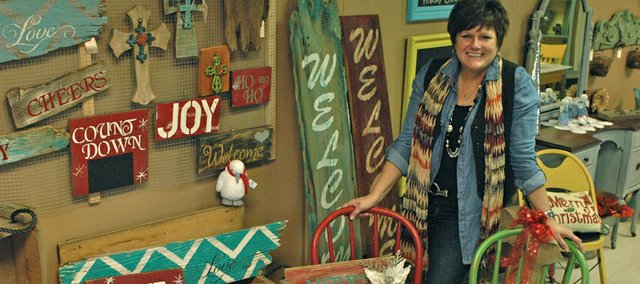 It has been a whirlwind couple of months for Cindy Purtee-Carpenter; what started as a simple idea turned into Downtown Bonner Springs' newest business in just a handful of weeks.
Specializing in repurposed furniture and signs, Found It On The Corner opened Nov. 1 at 201 Oak St. and will add to a growing number of downtown-area boutiques offering home décor and taking advantage of the vintage, repurposed movement.
Purtee-Carpenter said while she hasn't been producing her own repurposed furniture for long, but it didn't take long for it to take over the way she looks at home décor.
"I tell you, everything I see now, I'm like 'Oh, I could do something with that,'" she says.
Local residents may best know Purtee-Carpenter as the manager of the floral department at Queen's Price Chopper for nearly 14 years; prior to that, she worked with Harrington Floral for about six years.
While her experience with flower arrangements has developed her artistic eye, Purtee-Carpenter said the idea to create repurposed signs and furniture came entirely from a friend who lives in Wichita and was in town visiting over a weekend.
The friend shared how she had been creating signs and repurposing other things to sell at an antique mall in Wichita, and she suggested Purtee-Carpenter do the same. But Purtee-Carpenter said she didn't give it much thought because she didn't think she'd have time.
The following Monday, Purtee-Carpenter was driving to work and saw two wooden chairs with split seats that a neighbor had set out at the curb.
"I thought, 'It's a sign,' so I got out and put them in the car," she said.
She got her sister and niece involved, and they quickly became "obsessed," with her sister finding furniture items at garage and estate sales — not to mention continued luck finding things along the side of the road — and her niece quickly becoming an expert in the popular painting techniques, such as using "chalk" paint.
Purtee-Carpenter and her sister also went to their mother's home in Yates Center and tore down a neighbor's old outbuilding, giving them a stockpile of barn wood. Her niece posted a photo of the first decorative sign they created with the wood on Instagram, and by the end of the evening, they were in business: Eight people had responded asking to buy a sign.
Though Pinterest has offered lots of ideas, repurposing furniture came naturally for Purtee-Carpenter.
"Some stuff you can just look at and say, 'Oh, that would be cute if we made a shelf out of that,'" she said.
Purtee-Carpenter looked into selling her pieces through consignment, but she decided on her own location when she was making a delivery in downtown Bonner Springs and saw the for rent sign in the corner space formerly occupied by This and That Antiques and Collectibles, which moved across the street.
"It was just boom, boom, boom — I made decisions, and the next thing you know, we're in here," Purtee-Carpenter said.
Given the way items she sells might be found, and the location of the store, Purtee-Carpenter said the name for the business was obvious.
In addition to the repurposed furniture, the store will carry some lines of home décor items and offer custom silk flower arrangements and repurposing services, working with those who would like to do something with a furniture item but don't know what to do. The business also may begin renting out their repurposed items for décor at weddings and events, which Purtee-Carpenter has seen while providing flowers for weddings at Price Chopper.
"Every one of them this past year has been the barn look, the shabby-chic," she said.
Purtee-Carpenter said she is still experimenting with the store's hours of operation, but the store can be contacted through facebook.com/found-it-on-the-corner or founditonthecorner@gmail.com.