Bobcats rack up fall postseason honors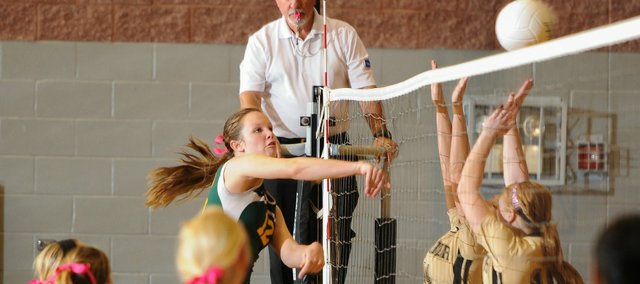 Several Basehor-Linwood fall athletes were recently recognized for their individual efforts this season, as 17 Bobcats earned All-Kaw Valley League recognition on their respective teams. BLHS had a combined nine first-team selections in football, volleyball, boys soccer and cross country.
A trio of Bobcat football players earned first-team defensive selections after a season that ended one win shy of the playoffs. Defensive lineman Nick Chaney finished second on the team with 74 total tackles, including 10 for negative yardage. Linebacker Cory McCleary had a team-high 102 stops in his final high school season, and defensive back Jahron McPherson had 31 tackles, an interception and four pass breakups.
Offensive lineman Jared Hiss earned a second-team selection, while linebacker Jake Phillips and tight end Boston Henry were honorable mentions.
The BLHS volleyball team nearly returned to state in 2013, and several players' contributions didn't go unnoticed. Abbey Mellies, Madi Osterhaus and Jaime Weible each earned first-team nods. Mellies led the Bobcats with 223 kills, while Osterhaus finished third on the team with 192. Weible, the team's libero, recorded 149 digs this fall.
Allison Heinen, one of two Bobcat seniors, earned an honorable mention in her final season.
Zach Ferguson was the boys soccer team's only first-team selection. The junior midfielder lead the team with 12 goals — four in postseason play — and added eight assists this season. Meanwhile, senior captain Sean Potter earned a second-team selection as a defender.
Before punching their first state ticket in 31 years, four members of the BLHS boys cross country team earned all-league honors. The top 10 finishers at the annual league meet get first-team nods, while runners 11-20 make the second team. Luke McGowan was the boys' only first-teamer with his eighth place finish, but fellow seniors Tanner Tavis (11th), Johnny Fulkerson (12th) and Mark Vitt (14th) earned spots on the second team.
Junior Quinnlyn Walcott, a state qualifier for the second time in three years, made the girls first team with a 10th-place finish.
BLHS fall All-KVL selections
Football
Nick Chaney — First-team DL
Cory McCleary — First-team LB
Jahron McPherson — First-team DB
Jared Hiss — Second-team OL
Jake Phillips — Honorable mention LB
Boston Henry — Honorable mention TE
Volleyball
Madi Osterhaus — First-team
Jaime Wieble — First-team
Abbey Mellies — First-team
Allison Heinen — Second-team
Boys soccer
Zach Ferguson — First-team Mid
Sean Potter — Second-team D
Cross country
Quinnlyn Walcott — First-team girls (10)
Luke McGowan — First-team boys (8)
Tanner Tavis — Second-team boys (11)
Johnny Fulkerson — Second-team boys (12)
Mark Vitt — Second-team boys (14)