Basehor author empowering children with disabilities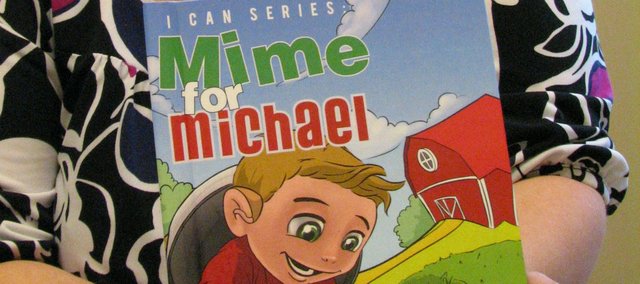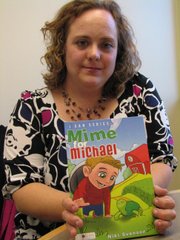 When paraeducator Nicole Svensons gives disability awareness talks at Leavenworth County Schools, and when she mentors children at Lawson Elementary School, she has the kids she has spoken with tell her "I can" three times before she leaves.
"I want kids to know that they can do anything, that there's no such thing as 'I can't' or 'I won't,'" Svenson said.
Svenson, a Basehor-Linwood High School graduate, grew up with multiple learning disabilities and has borderline Down syndrome. Now, she is publishing a 12-book series through Tate Publishing Co. in Oklahoma focusing on children with disabilities called "The I Can Series."
On Nov. 23, she is having a book-signing at Starbucks, 6620 Monticello Road, in Shawnee for her first book, "Mime for Michael." The book is based on the life of her late uncle, Michael Jolliffe, a mime artist and painter. Joliffe was deaf but was a successful mime and had some of his paintings on display at the Smithsonian Institute in Washington, D.C., where he also worked in the United States history department.
Svenson said she decided to write the book about Jolliffe while earning her sign language certificate at Johnson County Community College.
"I thought how cool would it be to write a book based on his life and how he overcame his disability," Svenson said.
In the book, Michael learns about his talent for miming through support of his family, friends and teachers. The illustration of Michael features the same green eyes as Jollife had and the same blond cowlick in his hair. The 24-page book is targeted to elementary-age children and features a small, green turtle on every page that is supposed to engage even younger children.
"This isn't just a book for kids with disabilities; it could be anybody. We all have insecurities that we need to overcome," Svenson said.
Growing up, Svenson said, she was always encouraged by her parents and teachers and told that she could accomplish anything. After high school, she attended the University of St. Mary and earned a degree in English and psychology. Svenson says she has always had a passion for special education beginning from her days attending a Kansas Youth Empowerment Academy as a teen.
"I guess it was all of the support I had when I was growing up that made me believe that anything was possible," Svenson said.
She has also had a passion for writing and has been writing plays and short novels for most of her life. Before signing the book deal for the "I Can Series," Svenson said she had submitted seven short novels for consideration.
It was when they were rejected that Svenson's parents suggested she try writing a children's book.
"Then I started to think about my uncle and the inspiration he is," Svenson said.
Tate Publishing contacted Svenson four weeks after she submitted the story, interested in pursuing a series. Each book in the series will focus on a child with a different disability and how the child overcame perceived limitations.
Svenson has been promoting the book all summer and has held signings throughout Leavenworth County, all while attempting to reach children individually as a teacher.
"I try to get it engraved in their minds that I believe in them," Svenson said, "that they can do anything."