Council amends vicious dog, sound ordinances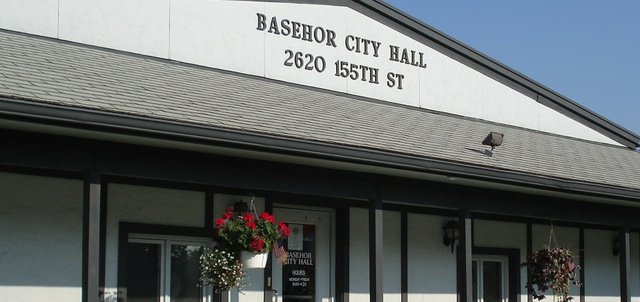 Two Basehor city ordinances that City Administrator and Police Chief Lloyd Martley said needed updating to better enforce were amended at Monday's city council meeting.
Ordinance No. 637 amended an ordinance created in 2003, in reaction to a vicious dog attack, that put strict restrictions on people who may own what had been deemed a vicious animal. One of those restrictions, according to the former ordinance, was that "all owners, keepers or harborers of registered pit bull dogs, Rottweiler dogs or wolf-hybrids" must provide proof of public liability insurance in a single incident amount of $200,000 insuring the person against any claim of damage or injury. The previous ordinance targeted specific dogs and required an insurance registration that Martley called unenforceable.
"Any dog, no matter the breed, can become vicious if put in the right circumstances," Martley said.
The new ordinance, approved 5-0 by the council, is not breed-specific but rather says any dog that "has a propensity, tendency or disposition to attack unprovoked, to cause injury or to otherwise endanger the safety of human beings or any other animal" can face a fine or $1,000 to $10,000 if convicted of harboring such an animal after being notified by the city to remove the animal. The restrictions on confining dogs and leash requirements remain the same as in the previous ordinance.
"We're not really changing much; we're just making it easier to enforce," Martley said.
Sound Ordinance No. 636 was also approved Monday with a vote of 5-0 and puts a well- defined limit on when disruptive sound is allowed and specifies how loud music amplified from a car can be. The new ordinance follows the same guidelines as the previous ordinance for construction and work outdoors but mandates that it be done between 6 a.m. and 10 p.m.
Music from cars must not exceed a 50-foot audible range, the new ordinance specifies, and also states that a dog or animal will not be allowed to continuously make sound for more than 30 minutes without potential for a citation. People will be allowed to use lawn mowers and other yard maintenance equipment, repair personal vehicles and repair their home as long as the work, as with the construction, is done between 6 a.m. and 10 p.m.
In other business Monday night at the council meeting:
• The council, Mayor David Breuer and outgoing City Clerk Corey Swisher announced that the Dec. 16 meeting will be the official budget amendment public hearing in which residents from Basehor will hear the proposed 2014 budget amendments and will be able to provide feedback. Swisher said Monday that the budget amendments for 2014 include additions to the trash and solid waste fund that saw an increase of about $1,000 per month in the second half of 2013 as compared with 2012. Swisher said this was simply because the city received more trash customers than anticipated as housing permits have spiked this year.
"This is not a reflection of over spending, it's more a matter of house cleaning," Swisher said.
The full budget and any proposed amendments will be presented Dec. 16.
• Swisher swore in his successor, Katherine Renn, as city clerk in front of the council as Swisher announced two weeks ago that he would be moving to Whitefish, Mont., where he will be taking an assistant city manager and finance director position. Swisher was hired by the city of Basehor in 2010 and came from an assistant town manager position in Vail, Colo. He is a U.S. Army Reserve veteran that served in Operation Joint Endeavor in the 1990s.
"He has been an integral part in the success we've had as a city over the last several years," Breuer said.
Renn has worked for the city for seven years and was the city's acting city clerk for six months in 2010 when the city was in the hiring process for the position eventually filled by Swisher.
• Martley announced several other staffing changes in addition to Renn's appointment as clerk. Robert Augusta Pierce has been promoted to street operations supervisor, Connie Leggett is now the utilities billing clerk and will be hiring an administrative assistant. The police department is hiring another officer at the beginning of December, Martley said, leaving only one vacant spot on the force of 12 officers.
• Martley announced that R&S Equipment, based in Tonganoxie, is relocating to Basehor and will be opening its new location off 145th Street and Parallel Road.
• Martley announced that the city saved more than $8,000 in 2013 by replacing the city's lights with 288 LED lights.
• The council approved the re-signing of the city's external auditor, Mize Houser, who was the city's auditor from 2010 to 2013. The council approved the renewal of the contract for another two years with a vote of 5-0.