Bobcat wrestlers gear up for 2013-14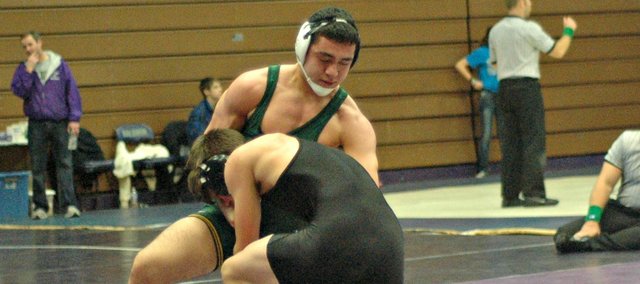 BLHS wrestling schedule
Dec. 5 — at Piper
Dec. 6 — at Spring Hill
Dec. 14 — at Shawnee Mission Northwest
Dec. 21 — at Emporia
Jan. 11 — at Bonner Springs
Jan. 17-18 — Bobcat Classic
Jan. 25 — at Paola
Jan. 28 — at Eudora
Feb. 1 — at Baldwin
Feb. 6 — at Ottawa
Feb. 15 — at KVL (Piper)
Feb. 21-22 — Regionals (TBA)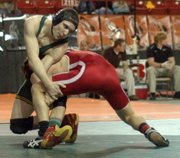 Just as the Basehor-Linwood High wrestling team's anticipation for the upcoming season has grown, so too has its strength in numbers.
The Bobcats' roster has seen a significant spike in the weeks preceding the 2013-14 campaign. With multiple wrestlers penciled in at nearly every weight class, BLHS seems poised for continued improvement in its second season under coach Tyler Cordts.
"We had a really good summer and everybody has been working year-round, and we've got a bunch of good guys coming in to help out," Cordts said. "The coaches and kids are excited. The level in the room is up and it's only going to get better."
Cordts' squad returns three state qualifiers from a team that took fifth at last year's Class 4A regional meet. Junior Zack Carter and seniors Cory McCleary and John Hopper ended their 2012-13 season in Salina and will try to replicate that feat in March.
McCleary, a regional champion last year at 145 pounds, can end his career as a three-time state qualifier, but said his primary focus has shifted away from his own accomplishments.
"Before (Cordts) got here, we weren't a team. We were individuals," he said. "Now we've got the team aspect of it. Last year, we all had individual goals to win regionals. Now that we have such a large team and so many backups, we can have a goal to win it as a team, which would be awesome."
McCleary will wrestle at 160 pounds this year, while Hopper (152) and Carter (195) will stay in their respective weight classes. Other varsity wrestlers back this season are junior Shayn Morris (113), sophomore Rylan Hawthorne (120), senior Josh Summers (145), and senior Steven Struzzo (170).
Gone are 2013 grads and state qualifiers Sam Seaton (126) and Seagar Smith (285). Freshman Tucker Rowland is the only wrestler currently listed at 126. Smith's weight class is one of six in which at least three wrestlers are battling for a varsity spot.
"There are definitely some spots that could even be switching from week to week," Cordts said. "It could be a battle all year."
Several freshmen will vie for starting spots, including Corbin Nirschl (106). Nirschl was a triple-crown state champion at the youth state competition this summer, winning state titles in three different styles of wrestling.
The Bobcats enter the season after a successful summer highlighted by a third-place finish at the 40-team Iron Sharpens Iron Team Camp in Dewitt, Iowa. Several wrestlers put together strong performances as BLHS emerged as what Cordts called the "dark horse of the tournament."
"It's been a great springboard because it showed us some success," Cordts said of the strong offseason. "Now we want more and more. The kids are hungry for it. They're getting better and they're seeing it in their teammates, so everybody is feeding off that."
The quest for more success will begin Dec. 5 when the Bobcats open with a dual at Kaw Valley League opponent Piper.
"We just need to keep working at it. We're doing great right now with building up our conditioning, so we'll just keep it going."