Hopkins resigns as
BLHS

football coach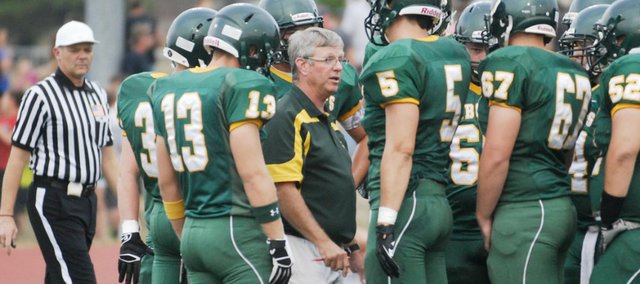 BLHS under Hopkins
2004: 5-5*
2005: 3-6
2006: 2-7
2007: 5-6+
2008: 4-6*
2009: 8-2^
2010: 9-1^
2011: 10-1^
2012: 4-5
2013: 3-6
*District runners-up
+District champs
^District/KVL champs
When the Basehor-Linwood football team takes the field next season, it will do so without Steve Hopkins for the first time in a decade.
Hopkins announced his resignation as the Bobcats' head coach this week, ending a 10-year tenure highlighted by three Kaw Valley League titles and six appearances in the Class 4A playoffs.
"I went into this season believing that we needed to do better," Hopkins said. "We worked real hard at it, but program was getting stagnant, in my opinion. We're at a point where somebody else needs to have the opportunity. That's my view."
Hopkins' squad went 3-6 in 2013 and narrowly missed the postseason for the second year in a row. The Bobcats went a combined 7-11 in 2012 and 2013.
Despite the program's recent struggles, Hopkins leaves with a 53-45 career record at BLHS. He arrived in 2004 after going 42-12 in five years at Odessa (Mo.). His teams made the playoffs just once in his first three seasons in Basehor, but earned five consecutive postseason berths from 2007 to 2011, including four district championships. The 2007 and 2011 squads also won bi-district titles.
The Bobcats' most dominant run under Hopkins came from 2009 to 2011, when they went a combined 27-4 and won three league titles. Hopkins led the 2010 and 2011 teams to undefeated regular seasons.
"I appreciate everything that coach Hopkins has done for our football program," BLHS athletics director Joe Keeler said. "He's left this program in a better place than he found it. There's no doubt about that."
Keeler said Basehor-Linwood will start taking applications for the position after Thanksgiving.
After slipping to 4-5 last season, Hopkins said he knew improvement was imperative in 2013. BLHS won just two of its first six games this season, but nearly did enough in its last three to earn a spot in the playoffs. A 36-35 overtime loss to Jeff West ultimately kept the Bobcats out of the postseason, though, as they went 1-2 in district play.
Hopkins hasn't completely cut ties with the football program just yet, as he's currently assisting multiple members of this year's senior class with finding spots to play in college next year. In his 10 years at BLHS, he's helped as many as 45 players land spots on collegiate rosters, including current Division I freshmen Ben Johnson (Kansas) and Drew Potter (South Dakota).
Though he won't roam the sideline in future seasons, Hopkins can still be found in the BLHS hallways. He plans to continue teaching social studies, as well as college government and college history at the high school.
"I still really enjoy getting up and going to work every day," he said. "I've got great classes and I enjoy what I teach."
Hopkins has also served as an assistant coach on the BLHS track and field team. He hasn't resigned from that position and said he'd like to coach the team again this spring. He didn't rule out a return to football down the road, but said he'd likely only consider an assistant position at another school.