Basehor-Linwood Assistance Services sees increased family need for holidays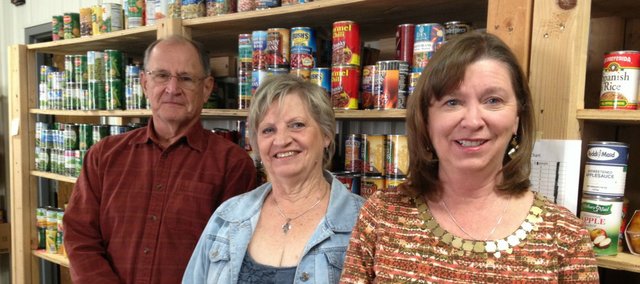 Thirty-four boxes were lined up in the back room of the Basehor-Linwood Assistance Services' food bank, each containing Thanksgiving meal fixings for families in the Basehor-Linwood School District.
The 34 boxes, one per family, are the most that BLAS (pronounced "Blaze") has packed in recent years for the upcoming holiday as part of its food bank project. Last year, BLAS distributed 16 boxes. The increase in demand for food on the holiday comes during the same month as a national cut in federal food stamps.
On Nov. 1, the federal government implemented cuts to its food stamp program that affected 47 million Americans, according to Feeding America, an organization overseeing 200 food banks nationwide. Known formally as the Supplemental Nutrition Assistance Program, or SNAP, a family of four that gets $668 per month in benefits will find that amount cut by $36. The cut comes after congress failed to come to an agreement to re-fund SNAP.
Michelle Walker, mother of 12-year-old and 15-year-old daughters and caretaker of her elderly mother, said the cuts hit her Bashor family hard.
"Using my food stamps, I have to make sure we have food for the entire month," Walker said this week at the BLAS food bank.
Walker said she received $526 in food stamps in October. For November, she received $490.
"That gets stretched pretty far especially when you have little things come up, including holidays, that mean you have to buy more," Walker said.
Food banks across the country serve as a supplemental source to many Americans currently on food stamps. According to Feeding America, food banks serve 37 million Americans. BLAS, with the help of several community donation events throughout the year, serves an average of 20 to 25 families in the Basehor-Linwood School District per week, according to chairwoman of the BLAS board of directors, Glenda Briscoe. She said the average family size served was about six.
"I can't even describe how much they help," Walker said of BLAS.

The nonprofit group distributed the boxes to families who requested the aid on Thursday. The Thanksgiving boxes are just the beginning of the holiday season that has seen consistent increase in demand over the years, Briscoe said.
Briscoe said this year's Thanksgiving meals demonstrated that growing demand, nearly doubling last year's total, but said she hasn't been able to see a direct effect from the food stamp cuts. Yet.
"I don't think we can directly put our finger on why there was such an increase this year," Briscoe said. "But we're expecting more need in the future because of the (food stamp) cuts."
BLAS, with help from community food drives throughout Basehor and the United Way, tries to stock its food pantry year round. The Basehor-Linwood School District last week donated more than 30 boxes of food to BLAS through a food drive and local Boy and Girl Scouts will be donating more food next week.
On Dec. 5, the Basehor Chamber of Commerce is hosting its annual holiday auction benefiting BLAS. The event is the biggest fundraiser for the organization all year.
The nonprofit founded in 1995 began the food bank almost three years ago in addition to its list of other community services. BLAS served about 50 children this year through its Backpack Program, which helps stock children's backpacks with school supplies and food.
BLAS's Adopt-a Family program is also underway in which families can donate food, gifts and clothes among other things to a family in need during the holidays. Briscoe said the Adopt-a-Family program usually reached about 40 families in the school district.
"It makes parents in need feel good to be able to give their kids a proper Christmas," Briscoe said, adding that people have donated strollers, car seats and even a stove before.
"These are local people making donations, and we make sure they go back to local families," Briscoe said.
Anyone who needs help or who would like to help with the Adopt-a-Family program, food pantry program or the backpack program should contact BLAS by sending an email to BLAS@sunflower.com or by calling (913) 724-2077. More information can also be found on its Facebook page.