Legends Outlets to offer all-night shopping, light show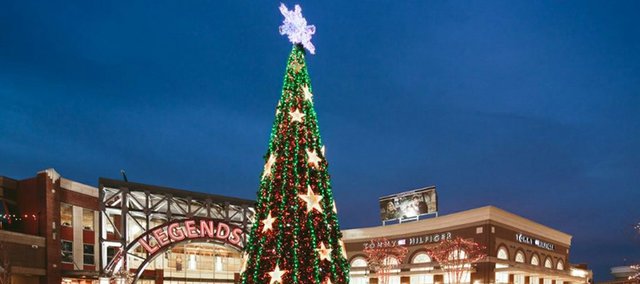 Legends Outlets Kansas City will usher shoppers into the holidays with an all-night shopping event Thanksgiving night and a light show every 15 minutes throughout the holiday shopping season.
The Legends lit up its 45-foot holiday tree Saturday at the center of the Civic Courtyard Fountain, when it began its daily light displays, in which festive decorations light up throughout the shopping center, synchronized to music, every 15 minutes. The lighting display shows will continue through Jan. 2.
On Thanksgiving night, The Legends again will have its Moonlight Madness, with 23 consecutive hours of shopping and $5,000 in giveaways.
This year, the first-ever Legends Outlets Cocoa Couture Lounge, presented by Saks Fifth Avenue OFF 5TH, will transform the center courtyard into a comfortable shopping experience. It will open at 9 p.m., one hour before the designer outlets and retailers will open.
Guests are encouraged to wear their most festive pajamas and enter the Cocoa Couture Lounge, featuring $2,000 in gift card giveaways from Saks Fifth Avenue OFF 5TH, complimentary hot cocoa by Mema's Old-Fashioned Bakery, and entertainment. The Lounge will have couches, heaters and tables as a dedicated destination to take a shopping break.
At 10 p.m., the entire Legends Outlets center opens with special sales and promotions. The lounge will serve as a giveaway center until 3 a.m. with $3,000 more in prizes. Winners will be announced via the center-wide speaker system every 15-30 minutes from 10:30 p.m. – 3 a.m. Shoppers must be present to win.
The Legends will have extended holiday hours Dec. 1 through Dec. 23. Stores will be open 9 a.m. to 10 p.m. Monday – Saturday, 10 a.m. to 7 p.m. Sundays. On Christmas Eve, stores will be open 9 a.m. to 5 p.m.