BLHS

girls out to improve in '13-14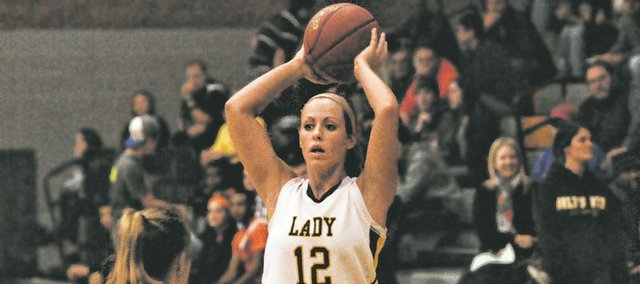 Girls basketball schedule
Dec. 6 — at Bishop Ward
Dec. 10 — at Sumner
Dec. 13 — vs. Hayden
Dec. 17 — at Bonner Springs
Jan. 7 — vs. Turner
Jan. 10 — vs. Tonganoxie
Jan. 14 — at Mill Valley
Jan. 17 — at Lansing
Jan. 20-25 — Bobcat Invitational
Jan. 31 — vs. De Soto
Feb. 4 — vs. Bishop Ward
Feb. 7 — at Piper
Feb. 11 — at Tonganoxie
Feb. 14 — vs. Bonner Springs
Feb. 18 — vs. Lansing
Feb. 21 — at Turner
Feb. 25 — vs. Piper
Feb. 27 — vs. Mill Valley
March 3-8 — Sub-state (TBA)
Growing pains often associated with a new coach took their toll on the Basehor-Linwood High girls last year, as an eight-game midseason losing streak translated into a 7-13 record. But, with several key contributors back — not to mention a few additions — optimism isn't hard to find as Jason Tatkenhorst's second season draws nearer.
Following a jam-packed summer in which they saw plenty of success, the Lady Bobcats have their sights set on a greater win total in 2013-14. With three starters and three top reserves back from last year's squad, they're hopeful success will come early and often in the coming months.
"We're very excited," senior Courtney Payne said. "All of the seniors, this is our main sport, so we're ready to get in here. We know the offense and what (Tatkenhorst) kind of expects from us. We're more comfortable, so I think that's going to help."
Seniors Amber Garver, Alex Gorman and Victoria Smith return after starting in 2012-13. Tatkenhorst must fill starting spots previously held by 2013 grads Jamie Johnson and Samantha Rutherford. Johnson, the team's only All-Kaw Valley League selection, led the Bobcats in scoring and broke the school record for most 3-pointers in a single season.
Also gone to graduation is reserve Kara Stephens.
"They showed us how to get through a lot of adversity," Garver said of last year's seniors. "With the new coach and with the team we had last year, we had a lot of younger girls play varsity, and they taught us how to go through those changes."
Payne will vie for a starting spot after playing significant minutes off the bench last year. Juniors Marriah Clayton and Madison McDowell also made an impact in reserve roles. BLHS will also have the services of juniors Sarah Ford and Alexis Nichols. Both were expected to contend for varsity time last season, but suffered preseason knee injuries.
Additionally, Tatkenhorst said there are nine sophomores in the mix after losing just two games on the freshman team last winter.
"We've got seniors who are determined to play a lot of minutes, but everybody's made the comment that, from 1-19, we don't drop off much," he said. "There's going to be a lot of competition, which is good."
The Bobcats put in plenty of work in the offseason, competing in tournaments throughout June and July. They were at their best late, going a combined 6-3 in two tournaments at Bonner Springs.
Other tournament trips included Lansing, Shawnee Mission North and Pittsburg State University.
"We did a lot of team bonding," Smith said. "We all have a really good work ethic this year, so I think we fit really well together. We kind of know where everyone is at, and we know each other's strengths and weaknesses, so we can kind of help each other get past everything."
Members of this year's senior class, who have played together since second grade, drew praise from Tatkenhorst throughout the summer, and all are expected to step into leadership roles as their final high school season unfolds.
They have some expectations of their own, too, including a return to the state tournament for the first time since they were freshmen.
"It's been our dream," Gorman said. "I think we're ready to fill those positions."
The Bobcats can take the first step toward making that dream a reality Dec. 6 when they travel to Bishop Ward. They'll also make trips to Sumner Academy and Bonner Springs and host Hayden before winter break.