Loaded with experience, Bobcat boys eye return to state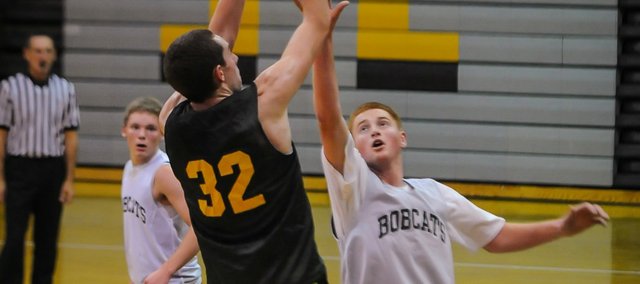 Boys basketball schedule
Dec. 6 — at Bishop Ward
Dec. 10 — vs. SM South
Dec. 13 — vs. Hayden
Dec. 17 — at Bonner Springs
Jan. 7 — vs. Turner
Jan. 10 — vs. Tonganoxie
Jan. 14 — at Mill Valley
Jan. 17 — at Lansing
Jan. 20-25 — Bobcat Invitational
Jan. 31 — vs. De Soto
Feb. 4 — vs. Bishop Ward
Feb. 7 — at Piper
Feb. 11 — at Tonganoxie
Feb. 14 — vs. Bonner Springs
Feb. 18 — vs. Lansing
Feb. 21 — at Turner
Feb. 25 — vs. Piper
Feb. 27 — vs. Mill Valley
March 3-8 — Sub-state (TBA)
A loss to Sumner Academy in last year's sub-state semifinals effectively ended the Basehor-Linwood High boys' shot to defend their 2012 state title. But, for nearly every returning member, the road to redemption began mere days later.
With a slew of varsity starters back this winter — many of them on the brink of their final high school season — the Bobcats have more than just a return to Salina on their minds. With more than 90 percent of their scoring and rebounding back, their sights are firmly set on the last game of the year.
Several players approached coach Mike McBride the day after last year's 12-9 campaign ended, asking when they could return to the gym. Eight months and one key addition later, coaches and players alike are eager to put the offseason effort to the test.
"I think we all thought it was going to take forever to get here," McBride said. "After 16 years of coaching, I can honestly say I've never seen a group of five or six guys play three hours of basketball a day. With the chemistry and the talent right now, it's pretty impressive when you're in our gym."
A five-man senior class headlines a team that must replace only one starter. All-Kaw Valley League point guard JP Downing will once again lead the offensive charge after averaging 7.8 points and 3.1 assists per game as a junior. He'll be joined in the backcourt by fellow first-teamer Chase Younger (19 ppg) and Zach McNabb (8 ppg).
"This is what we look forward to," Younger said. "It's always exciting to come out here and play with the kids we've played with since elementary school. We're basically all brothers and we're looking forward to this season."
Swingman Tim Sanders (8.9 ppg) also returns after earning an All-KVL honorable mention a year ago.
The Bobcats are without their biggest post presence in 2013 grad Matt Ogilvie, but they won't be without an experienced big man for long. Junior Pat Muldoon joined the team in the offseason after transferring from Mill Valley. Per transfer rules, Muldoon, listed at 6-foot-6, can't play until the end of the current semester.
"If there was one hole we had, it was our inside game," McBride said. "He closed the gap big-time on that. You could tell in the summer when he arrived, the confidence of the other kids rose because now they're all back in their positions."
McBride said 6-foot-4 junior Carson Fliger, a varsity newcomer, likely will play an extended role under the basket until Muldoon is eligible and could vie for additional playing time throughout the season.
In addition to returning almost its entire starting lineup, the Bobcats also retain a pair of key reserves in senior Drew Potter and sophomore Jahron McPherson. Potter, whom McBride labeled as a great defender, saw time at guard and forward, while McPherson averaged 6.3 points and 1.5 assists per game off the bench as a freshman.
"We expect a lot more out of (McPherson)," McBride said. "By the end of the year, he looked like a freshman. That's not an easy four months of your life, but he's looked really sharp and he's put in a lot of work. He's gone to camps all over the nation."
BLHS will open its season Dec. 6 on the road against KVL opponent Bishop Ward, then face a stiff test at home against defending Class 5A state champion Shawnee Mission South. The Bobcats will also face Hayden at home and travel to rival Bonner Springs before the start of winter break.
"It's really important to get a good start and see what we need to work on during Christmas break," Downing said. "We've just got to work together and practice really hard. It's pretty even in there, so we have a lot of competition in practice."
In total the Bobcats' schedule includes eight games against 2013 state teams, four of which reached the title game in their respective classes. Class 4A champion Ottawa will once again play in the Bobcat Invitational, and BLHS will see 5A runner-up and defending KVL champion Lansing twice in league play.