Class of 1983 fulfills a homecoming dream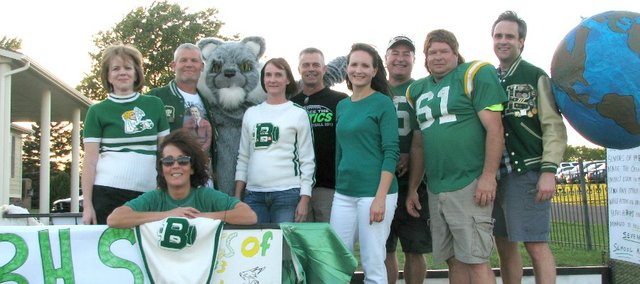 Thirty years ago, a senior class of 66 students at Basehor High School was robbed of one experience. This year, they had another that they will never forget.
The class of 1983 and its homecoming royalty candidates did not get to circle the football field and crown a king and queen in front of their home stands. A strong storm, with heavy rain and lightning, blew in just before the ceremony.
"We were performing 'Eye of the Tiger' during halftime and I just I remember getting poured on and then the power went out," said 1983 graduate Jackie Kelly-Himpel. "Everything went completely pitch black."
On Thursday, during the Basehor-Linwood High School homecoming parade, the class of '83 got to take the ride that they missed out on. In a decked-out trailer, 12 members of the class rode down 155th Street blasting Michael Jackson music and throwing candy to the homecoming parade spectators. The chance to act like homecoming royalty one more time was too good to pass up.
In the fall of 1982, instead of postponing the homecoming crowning because of the storm, the students went into the school's cafeteria and used flashlights to illuminate the makeshift ceremony.
"We made it work," Cindy Conklin said.
The football team was forced to reschedule the second half of its game against Louisburg High School for the next afternoon. Several members of that 1982 team rode on Thursday's float, including Lee Cunningham.
"There was lightning like crazy and we were stuck in the locker room at halftime," Cunningham said, wearing fake football pads and a long brown wig.
The images have been ingrained in each of the class members' minds and on Thursday, they created another chapter of unique memories.
At the beginning of the parade, a mysterious person in a Bobby the Bobcat mascot costume approached the class of 1983's float. The group welcomed the mascot onto the float without asking questions. The bobcat danced and motivated the rest of the group for the entire parade before revealing herself at the end of the ride. It was their 1982 princess candidate and classmate Jodi Sledd.
"During the entire ride, they never said anything bad about me," Sledd said. "So that's good."
The rest of the group admitted that Sledd had completely surprised them.
"We were thinking, who is this bobcat?" Kelly-Himpel said. "She totally fooled us all the way."
Going along with this year's homecoming theme of "Bobcats Around the World," the group had a globe hanging from the back of the float along with some fun facts about life in 1983. The price for a gallon of gas was $1.24 and first-class postage was 20 cents. Michael Jackson's song "Beat It" hit No. 1 on the Billboard Top 100, and the world's first Hooter's opened.