Bonner actors love to give a scare at haunted house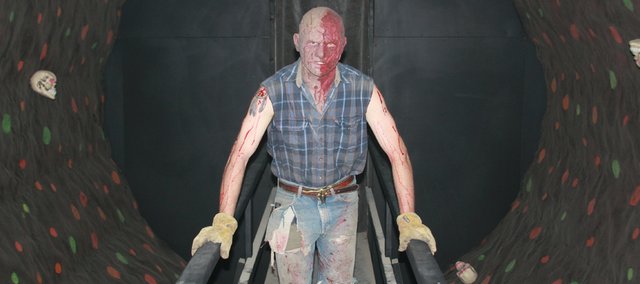 Not everyone would love to scare people for a living. But for the actors at the 3rd Street Asylum haunted house in Bonner Springs, it's the best part of their job.
The ultimate scare response?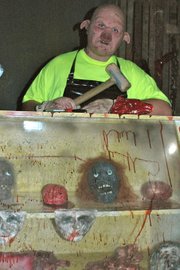 "I've made someone run into a wall before," says Sydney Hunt, 14, who with her twin sister, Sarah, play evil twin clowns.
"Scaring somebody, and they start crying, and they go up against the wall, freaking out," says Logan Clouse, also 14, who dresses in a camouflage suit and jumps out at people unexpectedly.
Logan's older brother, Austin Clouse, 20, plays Leroy Pig, a mutant pig butcher living in a log cabin. He says there are too many good scare reactions to choose from.
"I always like seeing when people just drop to the ground," he said.
Bryce Peterson, 22, plays Backwoods Butch, a reanimated corpse, and says he has gotten one extreme reaction from a visitor.
"This man just mentally shut down," Peterson said. "He didn't even have it in him to be scared anymore, he just slowly got down on the ground, grabbed his head, and just stayed there — no will to go on anymore."
Many of the Bonner Springs natives got their jobs through their friendships with the Clouse brothers, whose father, Mike Clouse, is part of JMS Entertainment. The company will offer the haunted house for the fourth year at the 1918 Building, Bonner's former high school at Third and Cedar streets. The haunted house opens this weekend, with hours from 7 p.m. to midnight on Fridays and Saturdays through Nov. 2, as well as Halloween, which this year is a Thursday.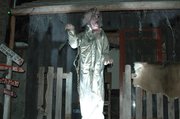 The actors say it's not just the scares — it's delving into a different side of yourself with the help of makeup and a scary setting.
"You just get to act different when you're in the haunted house — you get to act as your character," Sarah Hunt said. "Oh my god, it's so funny when you scare people, people who you know who are going through."
"And nobody knows who you really are," Logan Clouse added.
Most of the actors say they prefer being the person scaring others to being the one getting scared, but Peterson counters that he likes both.
"There's no place for hypocrites in this work force," he says. "The majority of us make trips to several haunted attractions in the Midwest to partake in getting scared, and then come back here and scare."
There are some "tough" customers who come through and try not to react or even make fun of the actors.
"You've just got to stay in character; don't change or say 'Hi' or anything," Sarah Hunt says.
Of course, it's easier to set the mood when you believe that the building that houses the 3rd Street Asylum is, in fact, haunted.
While no one is known to have died at the school, several local historians note that the 1918 building was the third school built on the site of a former cemetery. When the decision was made to build a school there, some wealthier families paid for the graves to be relocated, but others couldn't afford to do so, so the graves remained — prime fodder for those who believe in ghosts and unsettled spirits.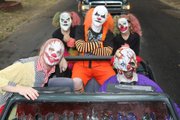 An area paranormal research group came to the building last year to study it and made recordings of the empty building in which they say a girl's voice can be heard saying "Help me."
The actors have reported getting pinched or having their hair pulled. Electrical cords tie themselves into knots, electrical props will go off by themselves, doors open themselves up and footsteps will be heard on an unoccupied upper floor, the actors said.
Austin Clouse recounts a tale of one door that mysteriously locked itself. Several of the haunted house employees tried to shove the door open with no luck, but once they gave up, one girl just went and lightly pushed the door, and it opened.
"And then, in one room, me and my friends saw a guy standing there in the hallway — he looked like a guy hanging — and we just ran," Austin adds.
Justus Seaton, 19, will join the crew full-time for his first year this season, playing a creature named Boris. His older brothers have worked at the haunted house so he is very familiar with all the stories of portraying ghosts, and maybe even running into some real ones.
"I think it's exciting, really," he said. "It's creepy to know that stuff has happened here, but it's also just exciting."