State return weighs heavy on minds of
BLHS

volleyball team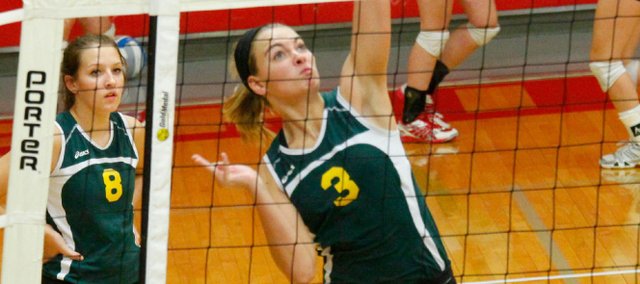 The Basehor-Linwood volleyball team has been explosive out of the gates so far this season, and that momentum is not looking to let up in the coming weeks.
BLHS opened with a perfect 5-0 start against Baldwin, Eudora, Bonner Springs, Ottawa and St. Mary's during the first week of play. The Bobcats then traded wins and losses during the annual Frontier League tournament to place fourth. Since then, the Bobcats have won six straight matches against Tonganoxie (3-0, Sept. 17) and Bishop-Ward (3-0, Sept. 24).
"We are definitely off to a better start than last year," BLHS volleyball coach Amy Irvin said.
The Bobcats started last season 0-5 after the Frontier League tournament, but went on to take second in the league behind Mill Valley, defeat Lansing for the first time in 20 years and compete in the Class 4A state tournament for the first time in school history. Despite losing four seniors after coming off of the season of a lifetime, the Bobcats say they are closer and stronger than ever on and off the court.
"We're definitely a closer team and we definitely love each other," Irvin said of this year's squad.
Junior Abbey Mellies and sophomores Madi Osterhaus, Jamie Weible and Courtney Robinson, the team's setter, have joined seniors Allison Heinen and Hailey Robinson in their effort to surpass last season's accomplishments.
Mellies and Heinen lead the Bobcats in kills so far this season, while Weible has been the leader in digs and Robinson in set assists. Back row defensive specialist Hailey Robinson said while the team had good chemistry and talent last year, she thinks the squad is stronger this season.
"We lost a lot of strong players, but we also gained a couple players," Robinson said. "I think everything is up a couple of notches this year from last year."
Even the losses this season, Robinson said, were games the Bobcats "could have and should have" won.
"We are capable of doing well and winning games as long as we stay competitive and don't lose our drive," she said. "I want to go back to the state tournament and want to place better than we did last year and be more competitive because we got there, but we didn't' keep going."
Robinson's sister and the team's setter, Courtney, said she wasn't pleased with the team's performance at state either.
"We didn't win any games and while it's not all about winning, we just didn't do that well," she said.
But the cohesiveness of the team this season has given her hope.
Most of the girls have played together for many years on school and club teams, especially under third-year coach Irvin, and that familiarity will be an important component in the team's success, Robinson said.
"If you're close off the court, you're going to be able to talk better with your teammates on the court and get along better," she said.
Sophomore setter Nicole Rutherford said that the "familial bond" is one of the biggest assets that teams need.
"If you're not close, then you can't start anything because talent can only go so far," Rutherford said. "We have our friendships down and are starting to play together. If we get all our plays together and put our talents together, we could be really good."
With less than a month left in the regular season, Irvin said her team is willing and able to do what it takes to have another successful postseason.
"We realize that we are all here for the same reason and we all carry our roles pretty seriously," Irvin said. "Everyone knows what role they have."
Irvin sang praise for her "amazing" hitters and sophomore libero Jaime Weible, who can "do almost anything."
While Irvin said she knows BLHS will finish in the top three in the Kaw Valley League, it's just a matter of which place the Bobcats will earn.
"We are definitely capable of winning league, without a doubt, and winning state is definitely a goal," she said. "They have to believe in themselves as much as I believe in them. My big thing I tell the girls is that they have nothing to lose, so go out, do your job and play with no regrets for 25 points. Volleyball is a game of momentum and if they play their game, communicate and are driven to do what they need to do, they are capable of anything."