Three Bobcats medal,
BLHS

third at

SFT

girls golf tournament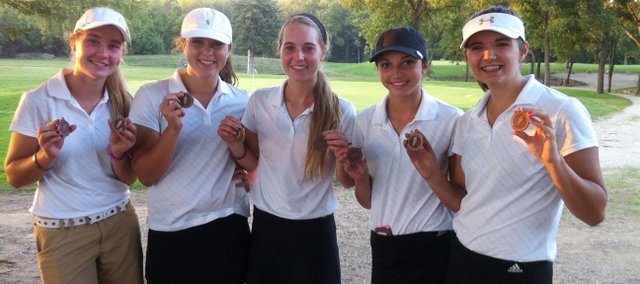 Basehor-Linwood's girls golf team medaled at the Santa Fe Trail-hosted tournament at Hidden Trails Golf Course on Tuesday, with three golfers taking home medals.
The Bobcats placed third with a score of 221, behind Silver Lake (209) and Piper (219).
Julie Lough, Chandley Easley and Jordan Blackwood led the way in collecting medals for BLHS.
Blackwood shot a 52 to lead the Bobcats with a fifth-place finish. Not far behind her was Lough, whose score of 53 was good for seventh. Meanwhile, Easley finished 13th with a 57, Marriah Clayton shot a 59 and Hannah Dickey finished with a 62.
"The girls did a great job of managing the course and having a great understanding of the conditions of the course," BLHS coach Bruce Courtney said. "Everyone did a great job and came away from the tournament not only with a medal but also with more knowledge of the game and how to approach different types of situations on the golf course."
BLHS will next compete at the Gardner Public Golf Course at a Gardner-Edgerton-hosted tournament at 3 p.m. Tuesday.