New tattoo studio is first ever in Bonner Springs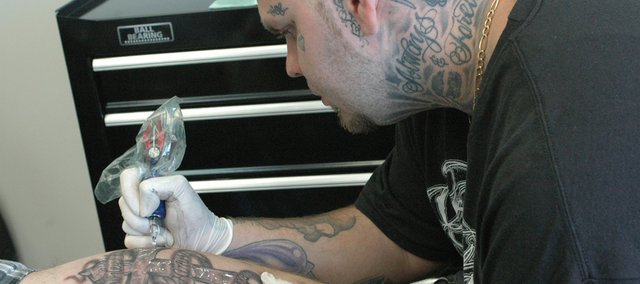 The owner of Bonner Springs' first tattoo studio says he wants to erase the negative image many have of tattoo artists and those who get tattoos.
Donnie McQuitty opened Righteous Tattoo Studio Sept. 30 at 609 E. Front Street in the Bonner Shops.
"I just kind of woke up with the idea that it would be cool to have a faith-based tattoo studio," he said. "I am a follower of Christ, and I decided I wanted to have a positive tattoo studio —there's not that many of them around. I wanted one that glorified God."
McQuitty grew up in Kansas City, Kan., graduating from Washington High School in 2004. He said he enjoyed art in high school and decided to become a tattoo artist after getting a few tattoos of his own at the Dragonfly Tattoo Studio in Kansas City, Kan.
"Once I got tattooed, I basically begged and begged and begged to work there," he said.
The owner, Troy Butner, finally offered him a job, and McQuitty has worked there for the last nine years. He became even closer with the shop when he began dating, and eventually married, Butner's daughter, Amanda Butner, who is a Bonner Springs High School graduate.
After praying about the decision to go out on his own and talking to his pastor, McQuitty began looking at possible locations to open his own studio in the western portion of the county. He said he already had some clients from the area, and he knew the waiting list at Dragonfly was always long thanks to clients from Leavenworth and western Wyandotte counties.
The Bonner Springs location ended up being the best, and one of only a few who would allow a tattoo studio.
"It was affordable, the location was great, and Bonner Springs was in need of one, I feel like," said McQuitty, who said in his research, Bonner has never had a tattoo studio in the city."... It was just kind of uncharted territory, basically. Bonner's grown up a lot, there's a lot of people in Bonner, a lot of businesses, but this is one of those specialty businesses that wasn't here. And yet, people drive 20 to 30 minutes to go get something like this, so why not bring it to them."
He decided to use the word "Righteous" in the name, and created an "RTS" logo with a christian cross as the "T," to emphasize the faith-based aspect of the studio.
"Obviously, someone who is righteous is a very good person... someone who stays with the faith and is an all-around good person, helps you when they can," McQuitty said.
McQuitty is currently the only tattoo artist at the studio but hopes to expand with another artist and to offer piercings. However, he said he will have to make sure to find artists who will maintain the studio's faith-based beliefs.
While tattoos and tattoo studios are becoming more familiar and acceptable thanks to some reality television shows based at tattoo studios, McQuitty said those some same shows also cause some damage, because they focus on a studio where the artists are constantly bickering or have drug problems.
"Some of those TV shows blow it up to be something it isn't; some of them just show the bad side of tattoos where it's a soap opera," he said. "My studio isn't like that at all; it's nice, laid back, quiet, no drama."
The studio is planning a grand opening at 4 p.m. Oct. 19, with a bounce house and other events in the Bonner Shops parking lot. The studio is open noon to 8 p.m. Monday through Saturday. It can be reached at 424-0881.
McQuitty can be found on Facbook at facebook.com/donnietatz, though he said he is in the process of changing his Facbook page's address to facebook.com/righteoustattoo.