Weather delay doesn't slow Bobcats vs. Turner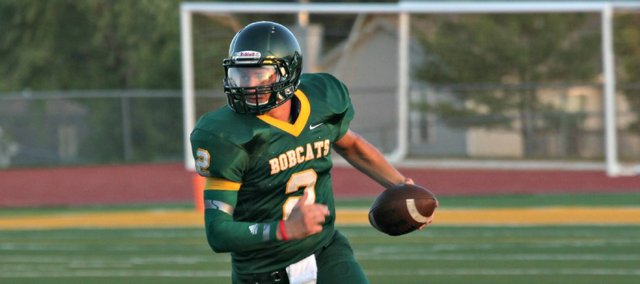 The Basehor-Linwood football team turned a two-day game into a 49-13 victory against Turner on Saturday.
Tim Sanders threw two touchdown passes to Dalton Inlow in the first quarter and Jahron McPherson had a 75-yard carry for a touchdown in the second quarter before the Golden Bears even scored.
Sanders and the Bobcats (2-3, 2-3 Kaw Valley League) picked up another touchdown to take a 28-7 halftime lead Friday night before rain and lightning forced the remainder of the game to be postponed until Saturday afternoon.
"It ended up working perfectly for us," BLHS head coach Steve Hopkins said.
After receiving the second-half kickoff, the Bobcats opened the third quarter with a six-minute drive for a touchdown.
The Bobcat defense held the Golden Bears (1-4, 1-4) before the offense took the ball down the field again, making the score 42-7 at the end of the third quarter.
"The defense played extremely well," Hopkins said. "And we started a lot of freshmen (Friday)."
The Bobcats are playing freshmen on their special teams and moving others into different positions while seniors Jay O'Bryan, Bret Fritz and Logan Potts remain sidelined with injuries.
"Nick Chaney has been a rock in the middle of our defense and he has been really, really consistent," Hopkins said. "Behind him, Cory McCleary has made play after play at linebacker, while with Broc Lindsay and Boston Henry, we have not asked them to play both ways, but (we've) got so many injuries and they give us a big lift.
"Our front seven are really starting to come along now."
The Golden Bears second and final touchdown came with less than a minute left in the game.
"They ended up scoring on some of our younger guys, but that is something that is going to happen," Hopkins said.
Sanders ended the two-day game with 218 yards on 13-of-21 passing with two touchdowns. McPherson had 18 carries for 160 yards, including four rushing touchdowns and four receptions for 71 yards. Inlow had four receptions for 84 yards, including his two scores. In total, the Bobcats finished with 532 yards of offense.
Basehor-Linwood will host rival Bonner Springs (4-1, 4-1) at 7 p.m. Friday.
"Seven of nine drives were touchdowns for us this weekend and we didn't punt until the end, so that was encouraging," Hopkins said. "We've got to start with great defense (against BSHS) and when we get a turnover, we need to finish the drive in the end zone and we'll be fine."
The Bobcats defeated the Braves last season, 35-11.