Wolf Creek Parkway extension making headway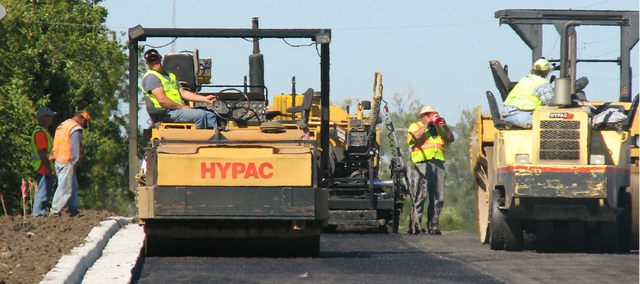 "Ahead of schedule" are three words rarely associated with construction projects, but they accurately describe Basehor's Wolf Creek Parkway extension.
Construction crews have worked feverishly to complete the new roadway. The project was originally scheduled to be completed by the end of the year, but City Engineer Mitch Pleak and City Administrator Lloyd Martley said Monday that the project could wrap up as soon as mid-November, weather permitting.
Also ahead of schedule is the reopening of 158th Street, which was scheduled to open on Oct. 18. The road is now scheduled to reopen Friday.
Designated traffic has been allowed to enter the Holy Field Winery but access to the residential areas closer to Parallel Road has been blocked. Holy Field Winery owners Les and Michelle Meyer said the construction crews have had little to no impact on their business.
"I never see them take a break," Michelle Meyer said. "They've been respectful of our business and it's just been amazing to watch how fast they're going."
Michelle Meyer has been witness to one of the problems occurring on the construction site: people ignoring the "road closed" signs. She said that last week she watched as a driver was pulled over by police in the middle of the construction site as he tried to drive through to a residence off 158th Street. According to Martley, 14 people have been cited for ignoring the signs.
"It's dangerous when you have trucks out there weighing hundreds of tons driving back and forth and men walking around the site," Martley said.
Martley, who is also the police chief, said there are many unforeseen dangers when ignoring such barricades. He referenced a Monday accident in Kansas City, Kan., in which a woman died after ignoring a "road closed" sign and losing control on a road that had been closed for years. According to KCTV-5, Kansas City police said the wreck happened after the driver swerved to avoid a barricade, went off the road and rolled her vehicle.
In other traffic news, Martley said that traffic on 155th Street might move more slowly in the next couple of weeks as construction crews limit the main artery of the city to one lane. Martley said drivers will still be able to travel both directions on 155th Street but there will be construction crews flagging traffic.