Basehor museum celebrates 5 years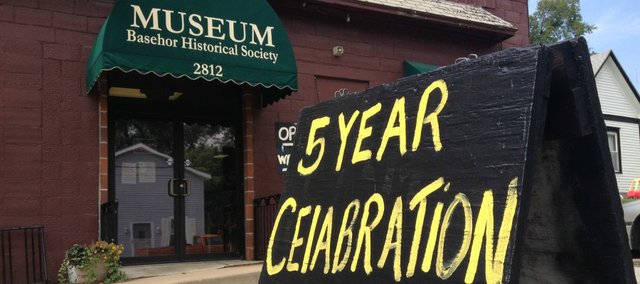 One of the last wishes of the late Bob Wiley was to make sure something he held very dear would stand the test of time. So he told the dearest person in his life, his wife.
"He said, 'Don't let anything happen to that museum,'" Lela Wiley said recently.
On Saturday, the Basehor Historical Society Museum will celebrate its fifth anniversary. Bob Wiley donated the building housing the museum at 2812 N. 155th St. to the Basehor Historical Society, which turned the building into a safe haven for everything a person could want to know about Basehor's history. With exhibits about the Basehor brothers who founded the city and other memorabilia, the museum attracts visitors from all over Leavenworth County.
"My husband, if he was still alive, he would be tickled to death," Lela Wiley said.
Through support of the community and the City of Basehor, the museum has thrived, serving locals and visitors alike. Basehor Historical Society member Carla Crawford said the upcoming anniversary celebration is not only for the museum, but for the people who visit and appreciate it.
"Leavenworth County as a whole has just been unbelievable with their support," Crawford said.
Anna Jean Breuer, a board member of the Basehor Historical Society, said she has experienced many heartwarming events over the museum's five years that show her how important it is to the city of Basehor.
Each year, third graders from the Basehor Middle School come in to the museum to learn some history. Recently, Breur said, a third grader was out with her grandmother in Kansas City when the little girl came across a $5 bill in a parking lot. Breuer said the little girl asked her grandmother if she could donate the $5 to the museum.
"It's just those little things that mean so much," Breuer said.
At Saturday's anniversary celebration, Mayor David Breuer, Anna Jean Breuer's nephew, will speak, as will several members of the historical society. The event is free to the public and will include a historical presentation as well as snacks and drinks.
The Basehor Historical Society also is continuing to raise funds to move the Rueben Basehor Library from the backyard of a house off Leavenworth Road to a more permanent location in Basehor City Park. Anna Jean Breuer said the city has approved a space for the building at the park. Built in 1905, the solid concrete building housed the area's first school library. The historical society has raised more than $6,000 to move the building, but still needs about $3,800 to complete the move, or else the building will be torn down.