Foreign exchange students find a home at
BLHS
The 2013 homecoming theme at Basehor Linwood High School was "Bobcats Around the World," and this school year, two students from very different parts of the world are calling themselves Bobcats.
Foreign exchange students Supitchaya Pipathworachai, 15, of Thailand, and Elise Yasbeck, 15, of Lebanon, began their studies as Bobcats in August. They will finish out their sophomore year in Basehor. The two have formed bonds not only with their host families and new classmates in school, but also with each other.
Yasbeck speaks three languages and has a sense of humor in all of them. She said she taught herself English 10 years ago by reading, listening to English speakers and research. She also speaks French and Arabic because she is being French-educated in her school in Lebanon. She said she learned how to speak English so well that she has even taught her parents how to speak it.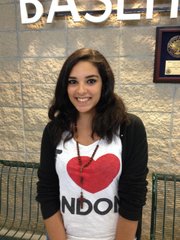 Although she wants to become a psychologist and study English literature, she has taken pleasure in signing up for BLHS's French class. She said she gets a kick out of the students trying to pronounce the words, but she also joined the class to help them.
Yasbeck has also taken on a mentorship role with the only person at the school who understands what it's like to be thousands of miles away from home, her fellow foreign exchange student Pipathworachai, who goes by the nickname "Oil," pronounce "Oy."
"We get comfort talking with each other because we're going through the same thing," Yasbeck said.
Both students have struggled somewhat with the lack of transportation in Basehor. In Thailand, Oil said she can easily take the Sky Train to any part of town. In Lebanon, Yasbeck said public transportation is how most people commute. In Basehor, everyone needs a car.
"You have to walk," Yasbeck said. "I don't do walking."
Oil smiles wide when she sees someone she knows. She may be shy— after all she has only spoken English for three years— but she feels welcome in Basehor.
"Everyone always says hi and how are you," Oil said recently at BLHS between classes. "Everyone is friendly."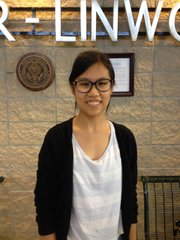 She said the warmth she receives from strangers is the most surprising aspect of American culture. She also said she expected much more junk food but has been happy to see a salad bar every day at her school lunch. She said her favorite restaurants in the area are Kelly's Restaurant in Basehor and Applebee's.
Oil is not the only one experiencing firsts every day. Her host family, Dwaine and Cindy Pant, have never hosted a foreign exchange student and are learning about Thai culture and food. Dwaine Pant said they became a host family based on the suggestion of a friend who had done it. The Pants' four children are all grown and Oil is now the only "child" in the house.
"It does feel like you're contributing to someone's knowledge of American culture," Dwaine Pant said.
Dwaine Pant said Oil took them to a Thai restaurant in Kansas City, Kan., and has shared some of her own food with them at home.
"We're learning and she's is very willing to listen and learn," Dwaine Pant said.
Yasbeck is living with BLHS sophomore Lauren Smith and her family.
Yasbeck said she is really enjoying her host family and said Smith reminds her a lot of her own sister. Both foreign exchange students travel home June.