BLHS

girls golf finishes year at regional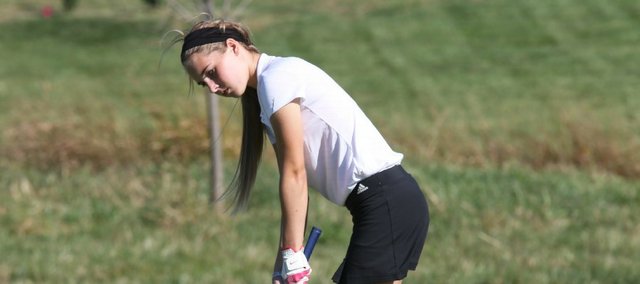 The Basehor-Linwood girls golf team wrapped up its 2013 season Monday at a Class 4A regional tournament at Dub's Dread Golf Course in Kansas City, Kan.
The Bobcats finished eighth in the team standings with a score of 503. Bishop Miege (477), Spring Hill (466) and host Piper (415) occupied the top three spots, punching their tickets to next week's state tournament in Pittsburg.
Senior Julie Lough ended her career with a top-20 individual finish, placing 17th with a score of 114. She was the only BLHS golfer to crack the top 20. Sophomores Chandley Easley (125) and Hanna Dickey (126) just missed out, as the 20th-place score was 126. Sophomore Jordan Blackwood rounded out Bobcat scoring with a 138.
Piper's Emily Pennington won the individual title with an 84.
BLHS takes ninth at home tourney
The Bobcats welcomed 10 teams to Falcon Lakes Golf Course on Thursday for the Basehor-Linwood Invitational. They carded a team score of 440. Topeka-Hayden won the meet with a 388, beating out Blue Valley by four strokes.
Lough placed 20th individually with a score of 105. She was followed by Blackwood (30th, 111), Dickey (32nd, 112), Easley (34th, 112), junior Marriah Clayton (40th, 115) and sophomore Maegan Cunningham (49th, 125).
St. James Academy's Caroline Klemp was the individual champion with a score of 81. She defeated Holton's Kyrstie Miller by one stroke.