Bobcat volleyball beats Piper in five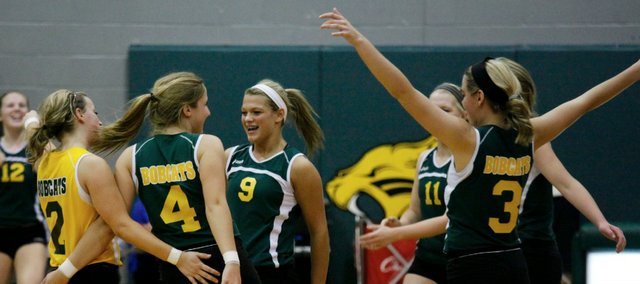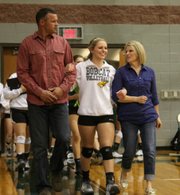 It took five sets and every bit of fight it had, but the Basehor-Linwood volleyball team sent its seniors out in winning fashion Tuesday night.
In a potential sub-state preview, the Bobcats outlasted Kaw Valley League opponent Piper in five sets, 15-25, 25-23, 19-25, 25-18, 15-8.
The Pirates got off to a red-hot start, scoring the first eight points of the opening set. BLHS hung around and eventually cut the deficit to four, but Piper closed out the set on an 8-2 run to take a 1-0 lead.
"We knew they were going to be good," coach Amy Irvin said. "We've seen them before and beat them, but it took three, so we knew what we were coming into. There was so much emotion and anxiety, but I told them 'if we play our game and calm down, you'll have nothing to be ashamed of and nothing to regret.'"
Irvin's squad responded, opening up a 20-14 lead late in the second set. PHS wasn't done, though, as it used a late surge to tie things up at 23-apiece, prompting a timeout from Irvin. BLHS scored two points out of the timeout to even the match. A power struggle ensued, as the Bobcats clung to an 11-9 lead midway through the third. The Pirates took over from there, reeling off 11 straight points to take a lead they wouldn't relinquish.
With its back against the wall, BLHS found an answer in the fourth set. It raced out to a 15-7 lead and maintained a comfortable distance to force a fifth set for the first time this season.
"We haven't played five games with anybody yet," Irvin said. "Like I told them, 15 comes fast. You've got to go out strong in five games."
The momentum from the fourth set carried over, as the Bobcats scored the first four points and took a 10-4 lead. Piper never got within five down the stretch, as Irvin's squad held on to secure the win.
The victory marked the final home action for seniors Allison Heinen and Hailey Robinson, who were honored in a ceremony before the match. Irvin coached the duo as freshmen on the junior varsity team, then took over the varsity squad when they were sophomores. She had to fight back tears while introducing the seniors during the pregame ceremony.
"They've done a lot for the program," Irvin said. "They're both positive, extremely amazing people, inside and out. They deserve the best."
Heinen led the Bobcats with 12 kills in her final home match, while Robinson had a team-high three service aces.
The Bobcats will be back in action at 5 p.m. Thursday when they travel to Blue Valley Northwest for a triangular with Shawnee Mission North. They'll wrap up the regular season Oct. 22 at Lansing.