BLHS

grad practices with Tampa Bay Buccaneers
Chumley continues working toward spot as
NFL

punter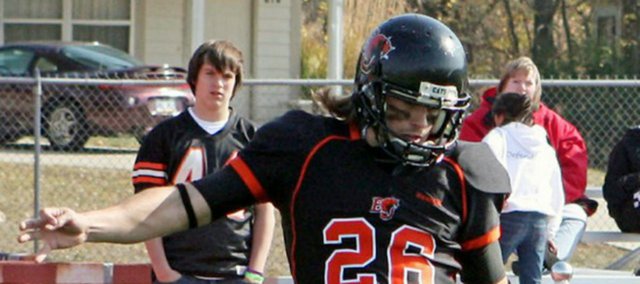 It has been eight years since Basehor-Linwood football fans saw Garrett Chumley play offense, defense and special teams for the Bobcats, but on Sept. 27, he came one step closer to possibly appearing on their television screens as an NFL punter.
Chumley received a call Sept. 24 from his kicking coach, former NFL placekicker Michael Husted, that the Tampa Bay Buccaneers wanted to have him come to one of their practices. The Buccaneers were not looking at Chumley to compete for Michael Koenen's starting job, but they needed a left-footed punter to practice against, and simulate what it would be like to face Dave Zastudil of the Arizona Cardinals.
"To be honest, I wasn't expecting that to be the reasoning that (Husted) was calling. Him and I are pretty close, so I just thought he was calling to check up on me and see how I was doing," Chumley said. "When he said what he was calling about, my heart definitely skipped a beat and got to shaking a little bit. It didn't seem real at first."
Chumley's practice only lasted about 30 minutes at the Buccaneers' training facility, but he felt good about how it went.
"We went through some drills that I had done before while out in California at my combines, so I was already pretty well prepared for what they asked us to do," Chumley said. "Overall, I think it went really well. I think I out-performed my expectations and delivered a good performance for them."
Chumley said he did not receive very much feedback from the players and coaches, but what he did hear from them was nothing but positive.
"During the workout, some of the coaches would acknowledge a good punt or good placement or accuracy, stuff like that," Chumley said. "The players were obviously down returning the punts, but after it was over, they came over and shook my hand, said that I did a good job and they appreciated me coming out and doing it for them."
While the practice easily ranked as the top moment of Chumley's punting career, there were several moments outside of the practice that made it a day he will never forget.
"While we were sitting in the player's lounge, Doug Martin came in and he was hanging out on the couch right next to me," Chumley said. "It was just kind of surreal because he's my fantasy (football team) running back, and I was like, 'Oh my God, this guy is sitting right next to me.'"
Chumley remained focused on what he was asked to do in the practice, but he made sure to take in the moment as well. He saw Bucs' standouts Vincent Jackson and Dashon Goldson while he was practicing, and let Darrelle Revis borrow his hot sauce at the team meal following the workout.
"You always see them on TV or if you go to a game, but to be on the same field with the same logo on your chest, it's crazy to think you're out there performing on the same field together," Chumley said.
The process Chumley went through just to get the opportunity to practice with Tampa Bay was a long one, and he will continue it in hopes of getting the chance to practice or play for another NFL team.
After ranking 14th at the NAIA Division I level with 39.8 yards per punt in his senior year at Baker University in 2010, Chumley moved to Arizona to begin training for an opportunity to punt professionally. He then moved back home for most of last year, but continued to do a lot of the same training.
After spending eight months in Basehor, he moved to California in January and made some big changes in his training program. Since then, he has been able to attend other kicking combines around the country.
Chumley played under Baker coach Mike Grossner for three years following a two-year stint at Washburn University, and he has received plenty of encouragement from his old mentor.
"He told me the good news and I just told him to go get it. Attack it," Grossner said. "He's been moving back and forth; east coast, west coast, trying to get in front of as many people as he could and it worked for him."
Although it has been eight years since Chumley played football at Basehor-Linwood, he still has some connections at his alma mater. He remains close to strength and conditioning coach Ross Schwisow and basketball coach Mike McBride.
"The strength and conditioning coach has been huge in helping me stay on top of that aspect of my game and helping me out by giving me free access to their facilities and writing workouts up for me," Chumley said. "My high school basketball coach has been my mentor through the whole process and helping me grow as an athlete mentally more so than physically."
It was a rarity to see Chumley on the sideline during his time with the Bobcat football team, as he was the starting quarterback his senior year. He also played in the defensive secondary and was the punter. However, punting was not something Chumley cared that much for when he played for the Bobcats.
"Actually, at that point of my life, no I didn't. I hated it," Chumley said. "Going from playing all of those positions in high school, I just loved being on the field and making plays and tackles. When I got to Washburn and was just punting, it was a huge reality check and a moment where I kind of had to suck up my pride."
Chumley even asked to move back to playing defensive back when starting his college career at Washburn, and it took him a while to see that punting was what could possibly lead to a chance to play football professionally. With Chumley having the athleticism to not only play multiple positions on the football field, but also excel at different sports, he has served as a good example to those around him, including his younger sister, Tara.
"He has been a great role model to look up to just as a college athlete and in general," Tara said. "As far as an athlete goes, he shows me that it is possible to get good grades by putting academics first, and also be successful on the field. I think that is huge with adjusting to how to be a student-athlete in college."
Tara followed in Garrett's footsteps by joining him at Baker to continue her athletic career. She has played on the softball team for the past three years, and also earned a spot on the Wildcats' volleyball squad last year.
"This whole opportunity for (Garrett) has really shown me not to give up on what I want. He has proved that if you work hard enough that you can get to where you want to be regardless of whether the odds are in your favor or not," she said. "He's a very hard worker. He gives respect to his family and his friends, so he's been a really positive role model in that aspect, too."
Part of what has fueled Garrett to continue his dream of being an NFL punter are his family, friends, past coaches and teammates and everyone who has supported him from the beginning of his football career playing youth football in Basehor.
"I can't tell them enough how much I appreciate that. To know that I had a whole community behind me and supporting me was so awesome," Garrett said. "It was a little nerve-wracking and a little bit of pressure, but overall, it was huge. It really helped me to perform my best out there."
While the practice with the Bucs allowed Garrett to experience a small sample of his dream, he knows he will have to work even harder to grab one of the 32 NFL punting jobs. Garrett hopes that his story can serve as an example to members of the Basehor-Linwood football team and other small-town high school players that they can achieve whatever they put their minds to.
"I was a no-name kid from a no-name school and have been the underdog since day one," Garrett said. "I was pretty much a long-shot and was counted out wherever I went, but through hard work, perseverance, dedication and just keeping your eye on the main goal of where you want to be and taking the right steps toward that, that's all it takes. My dream has been realized and theirs can be, too."