Volunteer work with children's organization changes career path for Bonner woman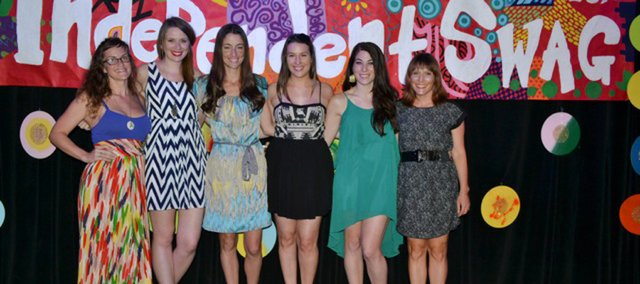 Nicole Gerken left behind her advertising agency career path three years ago, inspired to take a new path — and a smaller salary — to dedicate her time to a local charitable organization for children.
"It was awesome to be able to do something finally that I was really passionate about it," the Bonner Springs native said of her decision to leave her "ad agency life." "I was good at that life, but I was never really fulfilled."
Gerken's decision is only reconfirmed as her new employer, the HALO Foundation — which stands for Helping Art Liberate Orphans — grows and gains more national awareness. Just last week, HALO founder Rebecca Welsh was profiled in the "Heroes Among Us" feature in People Magazine.
Gerken's path to her new life began eight years ago, when she first started as a volunteer for HALO while working at various Kansas City ad agencies. It was only about a year after the founding of the organization, which empowers youth in the greatest need to become contributing members of their communities.
The learned about HALO from a friend and went to a meeting in the back of A Kansas City, Mo., bar. Gerken, who had been involved with youth charities since she was a student at Bonner Springs High School, liked hearing about HALO's efforts both at home in Kansas City and with orphanages abroad, in countries such as Mexico, India, Kenya, Nicaragua and Uganda.
"I liked that we were helping youth that were really in need," she said. "… They really focused on education, and that's important to me. It's not just about providing food and water, it's taking it a step further and making sure that we provide education, and I feel like that's what's going to make the difference for those kids."
She became more involved over the years, using the skills she had built promoting big brands to promote the growth of the small organization.
"It's very grassroots and we can make immediate change," she said. "I've been a part of other opportunities and didn't know if it really made a difference. With HALO, I really know that what I was doing was making a huge difference for the organization."
Gerken found she also enjoyed the people, who were all very dedicated to the mission.
"It's given me a great group of friends that care about the world," she said. "Everybody's super busy (in their everyday lives), but they're all making it a priority to bring about change."
So a little over three years ago, when Welsh told Gerken that HALO had grown enough to fund a part-time director of operations, Gerken decided to apply and was hired. She said it was a big life change, but since then, she has found time to focus on her other passions — she was able to earn certification as a physical fitness trainer, for example, taking that on as another part-time job.
She also has been able to get more involved with HALO's mission. In January, she visited the first orphanage that the organization began supporting in Mexico and plans to go back next year. She said it was amazing to see HALO's efforts in action.
"It was really eye-opening for me just to be able to be there," she said. "It definitely created even a higher sense of urgency for what we were doing. I also felt like kids were really happy despite everything they've been through."
Gerken also has helped out with the Kansas City Learning Center, located in the Livestock Building in Kansas City, Mo., where they offer future-focused programming for at-risk youth to help them set tangible goals for becoming contributing members of their communities. Gerken has taught health and fitness workshops as well as helped produce events such as a recent fashion show.
Most of HALO's workforce is volunteer, Gerken said; 80 percent of the funding it receives goes to its mission, so it has only eight paid staff members. Those looking to contribute to the organization can volunteer by teaching life skills, like a personal finance class on budgeting and balancing a checkbook, or special interest workshops for youth at the Kansas City Learning Center.
"We're just teaching things that kids don't have opportunity to learn or are not able to get living in a homeless shelter," she said.
HALO also has "ambassadors" who meet monthly and work on initiatives for the organization's strategic plan, from grant writing to planning events. There's also fundraisers like the Art Auction, set for Feb. 28 this year.
Internationally, volunteers give a two-year commitment to be HALO's eyes and ears at the orphanages it supports.
To learn more about HALO, visit haloworldwide.org.