Basehor teen takes over dance studio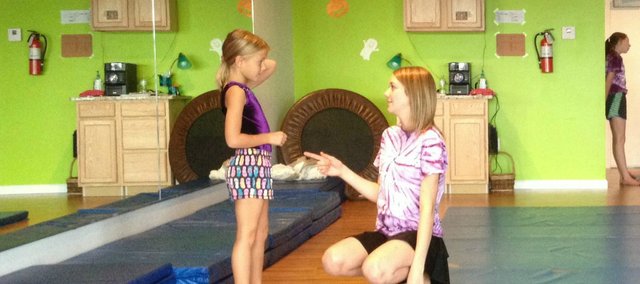 Kristin Mance, 19, taped up last-minute Halloween decorations just before a dance class for her 3-8 age group. Next to the Halloween decorations are neon hand prints of almost all of the students at Mance's new dance studio. On another wall are photos of students.
The hand prints remind Mance of herself and how she learned to dance at Judy Whitcraft's Judy's Studio of Tumbling and Dance, 3302 N. 156 Terrace. Mance was three when she took her first lesson.
"I grew up in the studio," Mance said.
So, about a year ago, when Mance heard that her long-time instructor Judy Whitcraft was closing down her studio, Mance took action. She began researching the business, researching insurance payments, liabilities and taxes. She began planning the future of Judy's Studio of Tumbling and Dance.
"I decided I wanted to keep it going," Mance said. "(Judy) saw that I was serious and we went through with it."
On Oct. 5, Mance's work paid off as she cut the ribbon, with Whitcraft at her side, at the new Judy's Studio of Tumbling and Dance II off Pinehurst Drive. Mance, who graduated from Basehor-Linwood High School just over one year ago, is the owner of the business, taking over what Whitcraft started nearly 42 years ago.
"I didn't feel like it'd be right to change the name," Mance said.
Whitcraft says she remembers the day Mance called her, asking to set up a meeting about the studio. Whitcraft had been cutting back the size of classes in preparation to retire this year.
"I knew she had a plan but I didn't know how well it was put together," Whitcraft said. "It was a business plan and it was a plan for the benefit of the children. Turning it over to her was not hard because she's carrying the same values forward."
Whitcraft said she was ecstatic to hear that Mance was even going to carry over the same motto to the new studio: "Judy's studio teaches children to love and respect themselves and others — and we teach tumbling."
Being the owner of the business and teaching people to dance and tumble fulfills several dreams for Mance. She is currently a full-time student at University of St. Mary pursuing a degree in education. She wants to teach elementary students in Basehor while continuing the studio business. She said her family helped her with some of the financial aspects of purchasing the business.
Mance has experience running a dance and tumbling studio from working directly with Whitcraft for the past several years. By sixth grade, Mance had become Whitcraft's assistant. Now Mance is in the driver's seat and Whitcraft will help wherever she can. Whitcraft said she is helping Mance regain some of the students lost in the last year from areas ranging from Tonganoxie to Bonner Springs and Lansing. Although Whitcraft plans on teaching tumbling for the next two years at the new studio, she said she promised to "not tell (Mance) what to do."
Whitcraft attended the Oct. 5 ribbon cutting and told Mance at the event that it was "more of an umbilical cutting."
Whitcraft's studio, located at her residence, will remain open and will host tumbling competitions.