BLHS

soccer blanked by Turner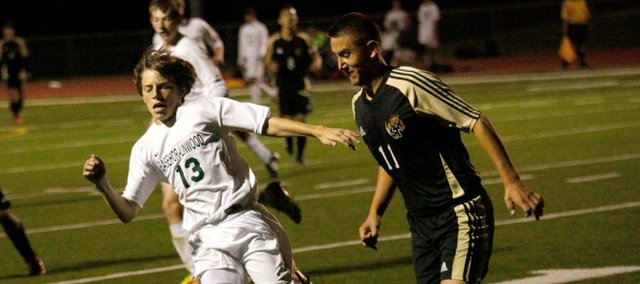 Turner 3, BLHS 0
First half scoring
Robert Reed (TUR), 11:32
Robert Reed (TUR), 10:53
Second half scoring
Luis Rivera (TUR), 36:21
Photo Gallery
BLHS soccer seniors
Six seniors were honored in a pregame ceremony before Basehor-Linwood took on Turner on Thursday.
The Basehor-Linwood wasn't without scoring chances in Thursday's home game against Class 5A Turner. Unfortunately, though, the Bobcats were never able to cash in.
Two first-half goals in less than a minute gave Turner the edge early, and the Bobcats couldn't find an answer in a 3-0 loss on senior night.
BLHS (4-9) struggled to create scoring chances early in the game, but didn't allow the Golden Bears to control possession. Turner came up empty on three shot attempts in the game's opening minutes, and a back-and-forth battle ensued.
The Bobcats got a chance to take the lead when Tanner Brown broke free down the middle of the field, but his shot attempt bounced off the right goal post with 25:32 left in the half. BLHS had other opportunities in the half — a free kick by Jonathan Harms sailed over the crossbar and THS keeper Colton Russell later blocked a shot by Sean Potter off a corner kick by Colten Foster — but failed to capitalize.
"Right now, it's a process and we've struggled with scoring," coach Erik Jones said. "We were a little better tonight, but we're still having a hard time tucking it away."
Turner ended the scoreless tie when Robert Reed received a long pass from a teammate and fired it by Kincheloe with 11:32 left. Reed doubled the Bears' advantage on a breakaway less than a minute later, and THS took the 2-0 lead into halftime.
"He's a good player," Jones said of Reed. "I think we lost track of him some, and you can't do that against him. He had a lot more opportunities than just the ones he scored on. We can't lose a player like that."
Potter nearly scored on a header in the final minute of the half, but Russell made a diving stop to keep the shutout intact.
The Bears got several shot attempts in the opening minutes of the second half, and they cashed in when Luis Rivera scored off a pass from Reed with 36:21 remaining. The Bobcats got a few chances late in the game, but weren't able to avoid the shutout. Perhaps their best chance came when Potter headed another Foster corner kick, but the ball was just high of the goal.
Before the game, BLHS honored six seniors in a ceremony. Those recognized were Potter, Jeff Storms, Eric Purrington, Jacob Hicklin, Jack Bergeron and manager Jordan Nirschl.
The Bobcats will be back at home Saturday for a non-league game against Pittsburg. They'll wrap up the regular season next week with road games at Maur Hill-Mount Academy and Bonner Springs.
"We had such a tough, front-loaded schedule," Jones said. "We knew we were going to take our lumps, but we just kept talking about how important it is to make that push at the end. We're excited it's getting here, but there's a long way to go."