Bobcat boys second, girls third at
KVL

meet
BSHS

boys sixth, girls eighth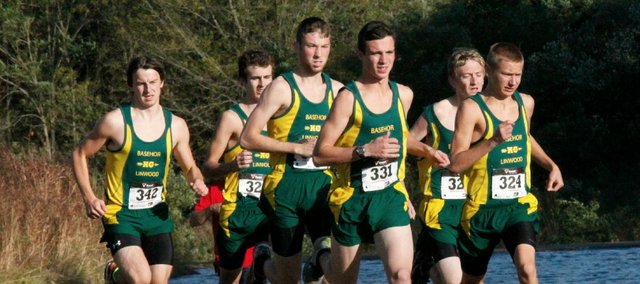 KVL team results
Girls
Mill Valley, 22
Tonganoxie, 67
Lansing, 94
Basehor-Linwood, 110
Turner, 121
Piper, 156
Bishop Ward, 184
Bonner Springs, 208
Boys
Mill Valley, 15
Basehor-Linwood, 66
Tonganoxie, 100
Lansing, 102
Turner, 137
Bonner Springs, 164
Piper, 166
Lansing — In what amounted to a partial regional preview The Basehor-Linwood boys cross country team enjoyed a solid showing at Thursday's Kaw Valley League meet at Kenneth Bernard Park. Powered by four top-15 finishes, the Bobcats finished second overall and first among Class 4A schools.
Luke McGowan was the only BLHS runner to crack the top 10, coming in eighth with a time of 17:44.43. He was joined in the top 15 by Tanner Tavis (11th, 17:58.86), Johnny Fulkerson (12th, 18:02.51) and Mark Vitt (14th, 18:10.03).
Zach McKnight (21st, 18:41.63) rounded out team scoring as the Bobcats finished with 66 points — 51 behind champion Mill Valley. Third-place finisher Tonganoxie (100) was the next highest among 4A members.
Casey Jones (25th, 18:56.4) and Jacob Cook (29th, 19:18.76) also ran for BLHS, but didn't figure into team scoring.
Quinnlyn Walcott had another solid performance for the girls, posting a 10th-place time of 17:04.09. Others to factor into the team score were Rebecca Carroll (20th, 17:58.69), Ally Laney (22nd, 18:08.83), Calder Hollond (28th, 18:29.91) and Erin Leach (30th, 19:08.18).
As a team, the Bobcat girls finished third with 110 points, coming in behind Mill Valley (22) and Tonganoxie (67). Sara Rehm (19:27.65) and Marina Pebley (20:01.89) wrapped up the varsity squad's day, coming in 34th and 39th, respectively.
Bonner Springs was also in action, but didn't enjoy as much success as its rival. The BSHS boys came in sixth with 164 points and the girls finished eighth with 208 points. Joe Casteel led the boys with a 17th-place time of 18:24.72, while Kennedy Bacon (36th, 19:40.22) paced the girls.
The Bobcats and Braves teams will join their 4A league foes Saturday at a regional meet at Wyandotte County Park in Bonner Springs.