Bobcats fall to Jeff West in
OT

thriller
Playoffs on line Friday in Perry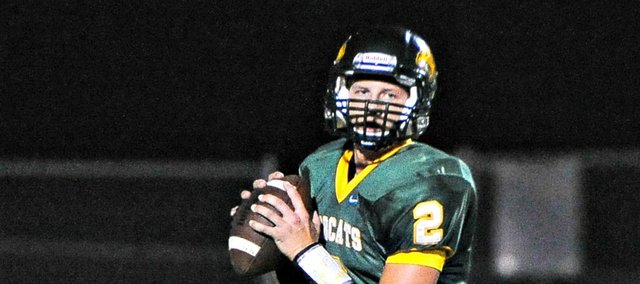 District standings
School, Record (Points)
Tonganoxie, 1-0 (+21)
Jeff West, 1-0 (+1)
Basehor, 0-1 (-1)
Perry, 0-1 (-21)
Basehor-Linwood's seniors didn't get a win in their final home game, but they did get one of the most memorable games of their careers.
The Bobcats forced a tie with just two seconds left in regulation, but a failed two-point conversion in overtime cost them a victory in a 36-35 loss to Jeff West in their Class 4A District 2 opener on Friday.
"It was a wonderful game," coach Steve Hopkins said. "To be honest, we got better my playing it. They played better than us in two or three moments, and they deserve credit for that."
Trailing 29-22 with less than two minutes in regulation, BLHS (2-5, 0-1 district) maintained its composure and marched down the field to give itself a chance to tie. Senior quarterback Tim Sanders hooked up with junior Boston Henry on a three-yard scoring strike, and Gage Wiser kicked the tying extra point with just two seconds on the clock.
Jeff West (6-1, 1-0) started the extra period on offense and scored on a two-yard run by Ian Mullins, and Luke Herring tacked on the PAT. Sanders answered with an eight-yard touchdown pass to fellow senior Bryan Crowe — his fourth touchdown pass of the game — and BLHS elected to go for two. Sanders faked to the running back, but stumbled when they got their feet tangled. He fumbled the ball as a result, and the Tigers escaped with the win.
"We made the decision in the break before overtime that we would go for two," Hopkins said. "We felt like that's what it would come down to. We felt like we had two kids open, but those things happen."
Jeff West opened scoring with a two-yard run by Wyatt Miller in the first quarter, then the Bobcats responded with a 28-yard touchdown pass from Sanders to Crowe. Sanders hit Henry for a two-point conversion, and BLHS took an 8-7 lead into the locker room at halftime.
The back-and-forth affair continued in the second half, which included three lead changes and three ties. Miller gave JWHS a 15-8 advantage when he scored on a 13-yard run and ran in the conversion, but BLHS tied things up when Sanders hit senior Dalton Inlow from 53 yards out.
Inlow put the Bobcats back in front with a 59-yard punt return touchdown, and they got a chance to make it a two-possession game when Wiser attempted a 34-yard field goal. The kick was blocked, though, and the Tigers returned it to the BLHS 10-yard line. Josh Becker punched it on on a three-yard run, and the teams went into the fourth quarter tied at 22 apiece.
"A lot of teams wouldn't be able to take advantage of that breakdown, but they did it," Hopkins said.
After a three-and-out by each team, the Tigers used some trickery to take the lead late the final period. Receiver Nathan Holloman received a pitch on what looked like an end-around, then threw it to Brett Ricklefs for a 38-yard score with just 1:09 remaining. That set up Henry's last-second touchdown catch and the dramatic finish in overtime.
Sanders enjoyed one of his best passing performances of the season, going 13-of-24 for 203 yards. His four touchdown passes gave him 10 on the season.
"We couldn't do much without Tim," Hopkins said. "He really had to carry the load."
Henry was Sanders' favorite target, hauling in five catches for 73 yards. Crowe and Inlow each had three catches. The Bobcats struggled in the run game, combining for just 84 yards on 45 carries.
Cory McCleary led the defensive effort with 15 total tackles, while fellow seniors Nick Chaney and Jake Phillips added 11 and 10, respectively. Inlow had nine stops and an interception to complement his two-touchdown performance.
BLHS will travel Friday to Perry-Lecompton (3-4, 0-1) for a do-or-die game for both teams. The Kaws dropped their district opener Friday at Tonganoxie, 37-8.
"The great thing about the system in Kansas is everybody started out 0-0," Hopkins said. "We're 0-1 and not done. We need to be 1-0 this week. That's our goal, then it makes the last game meaningful."
Score by quarters
JWHS 7 0 15 7 7 — 36
BLHS 0 8 14 7 6 — 35
First quarter
JWHS — Wyatt Miller 2 run (Luke Herring kick)
Second quarter
BLHS — Bryan Crowe 28 pass from Tim Sanders (Boston Henry pass from Sanders)
Third quarter
JWHS — Miller 13 run (Miller run)
BLHS — Dalton Inlow 53 pass from Sanders (Gage Wiser kick)
BLHS — Inlow 59 punt return (Wiser kick)
JWHS — Josh Becker 3 run (Herring kick)
Fourth quarter
JWHS — Nathan Holloman 38 pass from Brett Ricklefs (Herring kick)
BLHS — Henry 3 pass from Sanders (Wiser kick)
Overtime
JWHS — Ian Mullins 2 run (Herring kick)
BLHS — Crowe 8 pass from Sanders (conversion failed)
Rushing
Tim Sanders 15-44, Jahron McPherson 26-29, Bryan Crowe 1-7, Jake Phillips 3-4.
Passing
Sanders 13-24-0 203.
Receiving
Boston Henry 5-73, Dalton Inlow 3-62, Crowe 3-60, Phillips 1-12, McPherson 1-(-4).