BSHS

volleyball wins in senior night thriller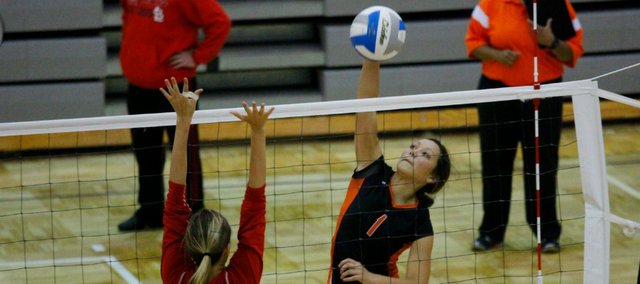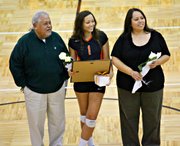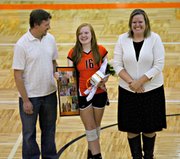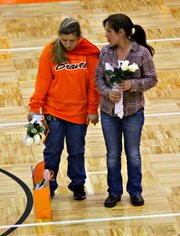 Before Tuesday's regular-season finale against Tonganoxie, Bonner Springs volleyball coach Jan Madlock asked Mariah Seifert and Shelby Mata to name their most memorable moments on the court. Neither could think of anything specific.
One day and five sets later, they might have a different answer.
The Braves dropped the first two sets and were down to their final point in the third, but roared back to defeat the Chieftains in five, 18-25, 21-25, 26-24, 25-22, 15-11.
"I just give the players a lot of credit for showing heart and being confident in their skills," Madlock said. "We talk about that a ton. We're trying to be aggressive and assertive, and I felt like we did that."
After falling into an 0-2 hole, the Braves (15-21) found themselves on the wrong side of an 11-8 score in the third. They answered with a 7-1 run to take a 14-12 lead, but THS (13-23) regained its composure and battled back to force a 21-21 tie. The Chieftains scored the next three points, putting themselves in position for a sweep, but BSHS scored five unanswered to force a fourth set.
A power struggle ensued in the fourth, as THS clung to a 19-18 lead late in the set. Another late surge gave BSHS the edge, as it scored six of the next seven and held on to even the match at two sets apiece.
The Braves carried that momentum over into the final set, working their way out to a 12-6 lead. The Chieftains used a 5-2 run to get within three, but Bonner Springs slammed the door one point later.
The win marked the final home action for Seifert, Mata and manager Erin Walters, who were honored in a ceremony before the match.
"Last year, we lost a five-game match against Bishop Ward on senior night," Madlock said. "As a coach, you're always looking for your players to have a good experience and good memories, and I think tonight will be a good memory."
Madlock's squad will travel Saturday to De Soto for a Class 4A-1 sub-state tournament. The Braves are the No. 3 seed and will face No. 2 De Soto (22-10) in the first round. The match will immediately follow the opener between No. 1 Bishop Miege (27-10) and No. 4 Spring Hill (14-23).