Lumber business credits 50 years of success to customer service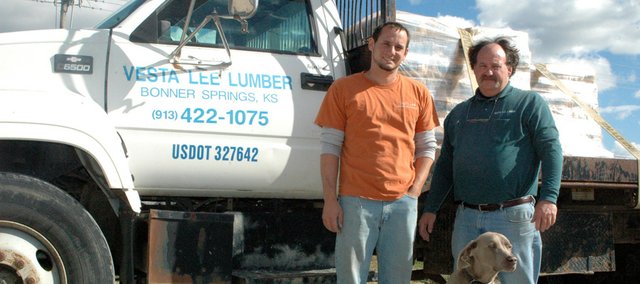 Looking at the small building and handful of outbuildings that comprise Vesta Lee Lumber, it's not obvious just how much the lumber yard and appliance store has to offer.
Second-generation owner Jim Bishop admits that when new customers enter the small main building at 2300 S. 138th St., Bonner Springs, they are often surprised to find the wall-to-wall plumbing, electrical and home repair hardware items.
"Probably the most common thing that our customer says is 'Boy, you've got a lot of stuff in here,'" said Bishop, a Linwood resident. "That's very common, because we do have a lot of stuff packed in here."
At Vesta Lee, things are done the old-fashioned way. The employees build a relationship with their customers, selling items over a front counter that Bishop said his father probably built himself when he opened the business in 1962. They pride themselves on product knowledge and customer service, so they aren't too concerned about some items being harder to find as they fill into every nook and cranny.
"We would prefer you to come in and tell us, 'Well, I want this thing-a-majig,' and we'll go get it for you, rather than you search around the story for 30 minutes trying to find what you want, and that's what (happens) at the big box stores."
That idea has served them well. The business's roots go back further than its Bonner Springs location. Bishop's father, Skip Bishop, grew up working in lumber yards, so when he came back from serving in the military during World War II, he decided to start his own. He opened Bishop Lumber Company in 1946 in the Muncie area.
He opened a second lumber yard in Salina in 1957, and finally the Bonner Springs location in 1962. He decided to name the business Vesta Lee after his sister, Vestina, and her daughter, Lee. Skip Bishop eventually sold the Muncie and Salina businesses in the 1970s.
Jim Bishop grew up working for his father, so when Skip Bishop died in 1977, Jim took over the business. Now he is preparing to pass it to his own son, James Bishop.
Given its lengthy history, most in the community know the products Vesta Lee offers as well as services like window and screen repair. Jim Bishop says the business has customers throughout the Kansas City area, some so loyal they use Vesta Lee even for far away projects. Recently, Vesta Lee shipped some lumber to Texas, and three years ago, they even shipped three containers of lumber to Puerto Rico.
Vesta Lee also is known for giving back to the community by any Boy Scout looking to build something for an Eagle Project or high school senior working on a senior project.
"We've been involved in too many projects to list throughout the years — we're always helping out the kids," Jim Bishop said.
And the company's customer service and community involvement seems to be serving it well. When Vesta Lee opened in 1962, Bonner Springs had three lumber yards and two hardware stores, but Vesta Lee has outlasted all of them. Jim Bishop said because of this level of community awareness, he has never felt the need to move elsewhere.
"Probably 80 percent of our sales are delivered, so it hasn't been important for us to be in a high-traffic location," he said.
Vesta Lee Lumber can be reached at 913-422-1075.