WAMEGO

,

HERE

WE

COME

:

BLHS

boys state-bound for first time since '82
Walcott earns individual bid in girls race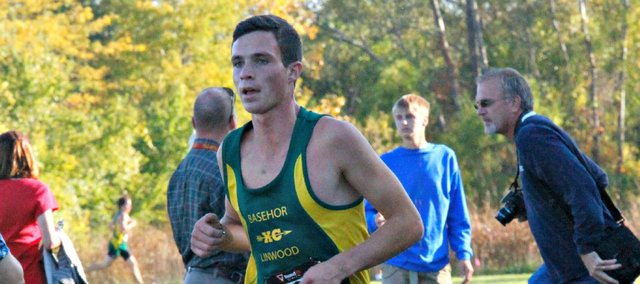 Before Saturday's Class 4A regional cross country meet, the Basehor-Linwood boys knew a state bid was within their grasp. Less than 20 minutes after the starting gun fired at Wyandotte County Park, that vision became a reality.
For the first time since Ronald Reagan was in the White House, the Bobcats have earned a spot in the last meet of the season. They did so with a third-place team score of 89 points, easily beating out Topeka-Hayden (110) for the final team bid — their first since 1982.
"There was a lot of screaming, but there was a little bit of shock initially," said senior Luke McGowan, who led the team with a ninth-place individual finish (17:21.61). "It didn't register right away. Coach (Jeff Venema) just started jumping around and screaming 25 minutes before the official results were released."
McGowan was joined by fellow senior Tanner Tavis (15th, 17:43.25) in the top 15. Seniors Johnny Fulkerson (19th, 17:50.2) and Mark Vitt (23rd, 18:02.99) and freshman Zach McKnight (18:21.41) rounded out BLHS team scoring.
"I was really happy to see all of our hard work pay off and finally go to state," McKnight said. "(The upperclassmen) have just been really good leaders for me and they've set good examples."
Juniors Casey Jones (49th, 19:00.33) and Jacob Cook (57th, 19:22.58) also ran at regionals, but didn't figure into team scoring.
The Bobcats finished behind champion Wamego (55) and runner-up De Soto (56) in the team standings, but will see both at Saturday's state meet at Wamego Country Club.
The state bid caps off five years of work for Tavis, Fulkerson and Vitt, who have run together since eighth grade. McGowan joined the team as a sophomore, and the Bobcats saw gradual improvement leading up to last weekend's history-making results.
"I'm just really excited to get to this ending result with guys I've been running with for five years now," Tavis said. "I wouldn't want to qualify with anybody but the guys I'm with now. It just makes it that much greater."
The state meet was still a two-mile race when the 1982 Bobcats qualified, so this year's squad is the first in program history to make the cut in the current 5-kilometer format.
This will be the first team appearance for any current BLHS runner, but not all team members are new to the course. McGowan and Vitt qualified individually last season, so they have been able to offer their teammates advice about the terrain, which is well-known for its challenging hills.
Perhaps more important, though, is not getting caught up in the heat of the moment.
"The competition is good, so you're going to run a faster race than what you expect," Vitt said. "You've just got to run your pace. They're going to fly at the start, so if you try to follow those top guys, you're not going to be able to finish the rest of the course because of how hilly it is."
In addition to Wamego and De Soto, the Bobcats will see Winfield, Mulvane, Wichita-Trinity, Hugoton, Goodland, Clay Center, Baldwin, Ottawa and Girard in the state field. BLHS posted the ninth lowest team score of all state qualifiers.
Any finish other than last would give the Bobcats their best state performance in school history, as the 1982 team came in 12th out of 12 teams.
"We've listed out every team that's running on a white board and we went through and talked about all of them," Fulkerson said. "We're shooting for the top half, so that's what we're focused on."
The BLHS girls will be represented at state as well, as junior Quinnlyn Walcott qualified individually. Walcott, who also qualified for state as a freshman, finished seventh at regionals with a time of 16:05.41. The top five runners not on state qualifying teams earn a place at the meet, and Walcott was third on that list.
The return to state had some added significance for Walcott, who failed to finish last year's regional race and was disqualified as a result.
"Since I didn't finish (last year), my tag wasn't off, so I put it up on my ceiling to remind me of how bad that hurt to not go to state," Walcott said. "On Saturday, I pulled it off my ceiling. I was ecstatic."
The 4A boys race is scheduled for 10:30 a.m., and the girls competition is set for noon.