Memorial for fallen firefighters unveiled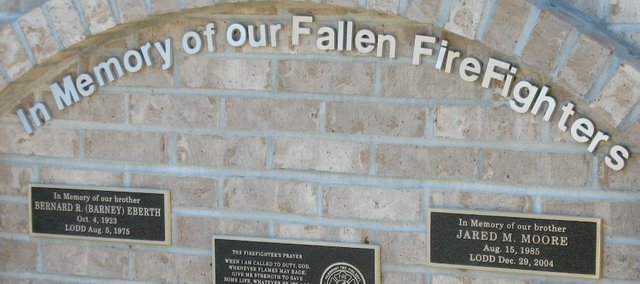 Sunday afternoon, members of the Fairmount Township Fire Department, members of the the community and members of two fallen FTFD firefighters' families witnessed the unveiling of a new memorial in front of the station. The memorial commemorates Jared Moore, who died in 2004 responding to a fire, and Bernard "Barney" Eberth, former Basehor mayor who died in 1975 responding to a fire.
After the memorial's dedication, the fire department celebrated the retirement of three firefighters who have a combined 88 years of service between them. Firefighter Lyle Wiley, Capt. Gayln Gorup and Assistant Chief Anthony Turner were each presented with their helmets, a letter from Gov. Sam Brownback and a special plaque to thank them for their service.