Local third graders take over city hall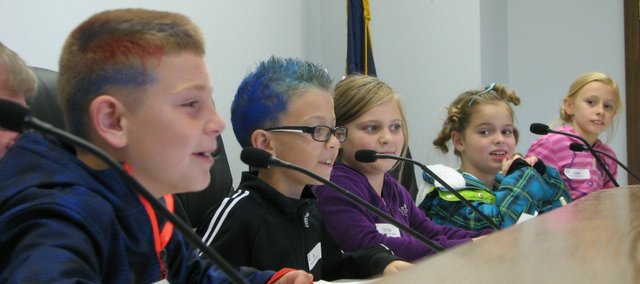 Recess will be extended for all Basehor Intermediate School students, the city council decided on Thursday.
The "city council" on Thursday, however, was five Basehor Intermediate School students playing the roles of some of the city's most important decision makers.
It was all part of Basehor Intermediate School's government day, in which the students toured City Hall and role-played several aspects of city government — from police interrogations to council meetings.
The third-grade council, headed by Interim Mayor Maddox Overacker, ruled in favor of extending recess despite some debate over how it would affect the rest of the school day.
"We would lose study time," Isabella Brandon said.
"Kids have to work hard every day so we deserve a longer recess," Kaydin Brown countered.
The third graders marched down their prepared agendas, which included hot-button issued such as adding a pool and skating area to the park. Then, Interim City Administrator Delaney Friesen, the third grade's representative to student council along with Overacker, gave the council her report on how the city is doing.
"City safe, people safe," Friesen said confidently.
Basehor Mayor David Breuer, Councilman Vernon Fields and city clerks Corey Swisher and Katherine Renn helped guide the students through their duties and explained the importance of city government and how it affects them.
"This is your city," Fields told the students, "this is your home. I understood myself the more and more I got older that this is a very important process. I would encourage everyone to look at getting involved in student council or anything else in school that may lay the foundation for this."
The class also learned how police make reports and arrest suspects. Several students played the roles of pumpkin thieves with Officer Andrew Burns while others played the interrogating police officers. The students then learned how the city's municipal court functions and how the city's planning and zoning commission build the city around them.
The students, although more excited by the more theatrical aspects of the day, seemed to respect city government. Friesen said after the tour that she is learning through student council a lot about the process of elections and the responsibility of representing her peers.
"We have to listen to the peoples' ideas and we have to take that to our teacher," Friesen said. "We'll talk about it and she'll say, 'Maybe,' or 'We'll think about it.'"
Breuer told the kids at the end of the tour that the overarching responsibility of city government is to keep the people safe. Teacher Kelley Harmison said the annual trip down the road to City Hall is one of the most anticipated field trips of the year.
"In social studies we talk about city government a lot," Harmison said. "It helps them to then be able to see and experience how everything works."