Zip line park aims to test, thrill visitors
Brad McDonald says zip lining is sort of like skydiving without all the risk — that's the best way he has heard to describe it.
"I've tried to explain it, and I just can't put it into words; it's just a really cool feeling," the owner of the new Adventure Zip KC zip line park says.
At Adventure Zip, just southwest of Bonner Springs, it's the feeling of stepping off a 65-foot tower, built atop a hill some 240 feet above the Kansas River, and taking just 40 seconds to zip through the trees down a quarter-mile line to the next tower. The 340-acre property opened over the weekend with five zip lines, eventually to expand to eight to 10 zip lines as well as hiking, mountain biking and rock climbing. McDonald estimates the park will attract about 10,000 people annually.
"It's going to be a big playground, is really what it is," McDonald said. "And it'll test you — that's kind of our whole point, is we want to test you a little bit. We want to get you out of your comfort zone just enough to where you feel a little iffy, but by the time you're done, hopefully after the two, two and a half hours — we've seen it already happen: People are standing tall."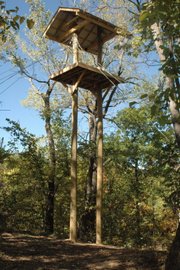 McDonald said he has always been an outdoor enthusiast, though it took zip lining to get him over a fear of heights. After his family moved its frozen food manufacturing and distribution business to National Cold Storage at 12755 Loring Road, McDonald got the idea to turn the land surrounding the underground storage facility into a zip line park, expanding the outdoor recreation opportunities in the Kansas City area.
"This is really cool because it's attractive to anybody, all age demographics, every walk of life; this is something that anybody can do," McDonald said. "It's a neat way to get people introduced to the outdoors. If you're an outdoor enthusiast, it's absolutely awesome, and if you're not, you kind of become one by the time you're done."
But it took two years before work began on the park. McDonald said he went to many other zip line parks, did lots of research and attended a zip line and ropes course conference before working out a deal to lease the land from National Cold Storage.
It seemed the perfect location for a top-of-the-line zip lining park, not only because of the topography but also because of its proximity to the entertainment possibilities in the nearby Village West area, as well as attractions such as Cricket Wireless Amphitheater, the Renaissance Festival and Moon Marble Co. in Bonner Springs.
"You think, 'oh it's gotta be in the mountains,' or 'it's gotta be in the hills,' and we're right dead center in the middle of the United States," McDonald said. "From the bottom level at the river to where we go to the top of our tallest tower is 300 feet of change, and I don't think most Kansas City people ever see that."
A Seattle firm was flown in to engineer, design and build the course, which took five and a half months. McDonald said though it took more time, they were careful to preserve as many of the trees as possible.
While the lines and harness equipment can technically support thousands of pounds, the course is designed for zip liners 70 pounds to 275 pounds.
"If we have somebody that's a little bit lighter, we can tandem those people together to make that weight happen, but we do have a maximum weight," he said. "So it's not a weight issue as far as what the course can handle, it's more about the speed."
Zip liners can go anywhere from 20 miles an hour to more than 40 miles per hour on some lines, depending on weather conditions and body position. But it's not all about speed; McDonald wants to make sure the zip liners are enjoying their surroundings.
"When you go that fast, you kind of lose what the beauty of the whole thing is," he said.
The park also provides a braking system for anyone worried about going too fast. McDonald said because of this, the park lines probably were built faster than most.
It might seem strange to open an outdoor recreation business just as the weather is starting to get cold. But McDonald said he and his staff planned it that way.
"We wanted to do it in baby steps; our goal was to open before the leaves changed and open slowly," he said. "It gives people the chance to come out and start talking about it, and gives our people a chance to see the different personalities and what to expect."
A grand opening is planned in the spring, but McDonald said so long as weather conditions are safe, they will remain open for the winter as long as customers are booking visits.
To book a zip line tour, Adventure Zip KC can be reached at 913-302-8881 and can be found online at adventurezipkc.com and facebook.com/adventurezipkc.