BLHS

soccer blasts Maur Hill in regional play-in game
Ferguson notches hat trick in win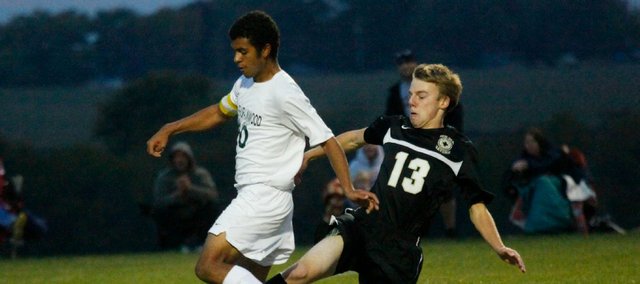 BLHS 8, Maur Hill 2
First half scoring
Zach Ferguson (BL), 26:42
Ferguson (BL), 21:14
David Whaley (BL), 19:33
Armando Sandoval (BL), 10:57
Sean Potter (BL), 8:12
Second half scoring
Ferguson (BL), 35:21
Austin Grippin (MH), 30:34
Sandoval (BL), 24:59
Jacob Hicklin (BL), 20:12
Sterling Falk (MH), 12:13
When the Basehor-Linwood soccer team traveled last week to Maur Hill-Mount Academy, it eked out a 2-1 win without the services of Zach Ferguson. The Bobcat captain was back on the field in Monday's rematch, and he made his presence felt early and often.
Ferguson scored three goals, propelling BLHS to an 8-2 win against the Ravens in a Class 4-1A regional play-in game at home.
"He's a big difference maker, not only in skill, but he's a captain," coach Erik Jones said of Ferguson. "We had guys really step up when we were without him, but he kind of makes the whole engine go."
Ferguson opened scoring with a goal off a free kick by Jonathan Harms with 26:42 left in the first half. Maur Hill's Chase Kunecke got a chance to tie the game less than a minute later, but his shot attempt sailed wide right of the goal. Ferguson got another scoring chance midway through the half when he drew Raven goalkeeper Thomas Hoopes out of the net. He skipped the ball by Hoopes from about 15 yards out, doubling the Bobcats' lead with 21:14 to go.
David Whaley, Armando Sandoval and Sean Potter each added first-half goals, and BLHS took a 5-0 lead into the break. The Bobcats were able to score effectively off passes and corner kicks in the opening period, as Harms and Chandler Carey combined for four assists.
"That's one thing we focus on for sure," Jones said. "A corner kick gives you one opportunity where the ball goes untouched across the goal. When a guy has a free kick, there's no pressure on him. The hard part for us has been generating those, so we did a nice job."
Ferguson capped off his hat trick on a penalty kick in the opening minutes of the second half. He got the opportunity when Tanner Brown was fouled in the box. Maur Hill got the goal back on a penalty kick of its own with 30:34 remaining. Kunecke drew the foul and Austin Grippin got a shot just past the outstretched hands of Bobcat keeper Trevor Kincheloe.
Basehor-Linwood answered the PK with two more goals off the feet of Sandoval and Jacob Hicklin. Sandoval's score came off a pass from Brown, and Hicklin needed just two touches off a goal kick to make it 8-1 with 20:12 remaining.
Maur Hill's Sterling Falk scored the final goal of the game when his shot attempt went through Kincheloe's hands with 12:13 left.
With the win, the Bobcats advance to the regional semifinals. They'll travel to Piper today for a 5 p.m. game. The Pirates won the teams' regular season meeting Oct. 1 at PHS, 2-1.
"It's going to be a physical game," Jones said. "They're very fast, very athletic. It's a good matchup. It's going to be a tough game, but I like our chances."