BLHS

volleyball falls to Pirates in sub-state finals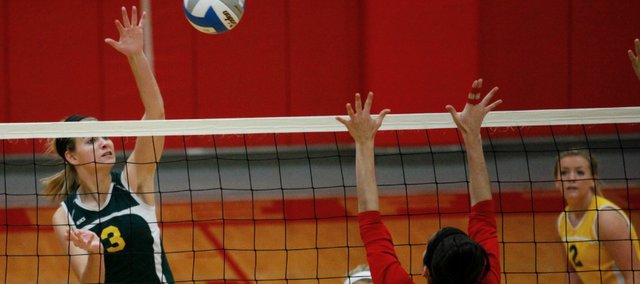 Tonganoxie — The Basehor-Linwood volleyball team reached the championship match Saturday at a Class 4A-1 sub-state tournament in Tonganoxie, pitting itself against a Piper team it had already defeated twice this season. Unfortunately, with a state bid on the line, the Bobcats weren't able to complete the trifecta.
BLHS saw its season come to an end with a loss to the Pirates in the finals. PHS won the match in three sets, 26-24, 15-25, 25-19.
The Bobcats (23-16) swept host school Tonganoxie in the semifinals, but stumbled out of the gate in against the Pirates (22-15). PHS jumped out to a 7-3 lead and traded points until midway through the first set. Trailing 15-12, BLHS went on a 5-1 run to take their first lead of the match at 17-16. A 4-1 burst later in the set gave the Bobcats a 24-23 lead and a chance to win the set, but the Pirates scored the next three to go in front, 1-0.
BLHS needed little time to answer in the second set, which it opened with a 6-2 run. It maintained a lead throughout and pulled away late to even the match at one set apiece.
The momentum from the second set seemingly carried over to the third set when the Bobcats scored three of the first four points, but Piper answered with a 6-1 run to take a lead it wouldn't relinquish. BLHS stayed within arm's length until the Pirates scored five straight to take a 22-15 lead. The Bobcats closed the gap to five before PHS slammed the door and punched its ticket to this weekend's state tournament in Salina.
The Bobcats got the start they were looking for in the semifinals against Tonganoxie, taking an early lead and gradually pulling away for a 25-21 lead in the first set. The Chieftains carved out a 17-9 lead in the second, but BLHS caught fire late and, thanks to a 9-1 run, got a match-point opportunity with a 24-22 lead. Three match points later, it capped off the sweep with a 28-26 win.
In her final high school matches, senior Allison Heinen led the Bobcats with a combined 17 kills. Jaime Weible paced the back row with seven digs and tied Courtney Robinson and Abbey Mellies for the team lead with two service aces. Meanwhile, Jordan Eriksen posted a team-high 2.5 blocks.