BSHS

soccer downs Tonganoxie in

OT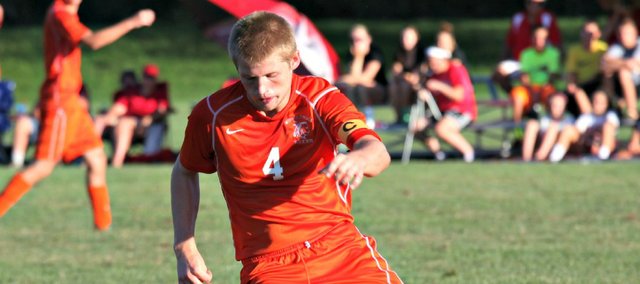 BSHS 4, THS 3 (OT)
BSHS 4, THS 3 (OT)
First half scoring
Asher Huseman (TON), 34:43 (Evan Stilgenbauer assist)
Cody Pierce (BS), 18:37
Huseman (TON), 16:30 (Stilgenbauer assist)
Robert Glenn (BS), 15:51
Second half scoring
Stilgenbauer (TON), 27:23
Travis Dooley (BS), 23:24
Overtime scoring
Glenn (BS), 3:25
Tonganoxie — The Bonner Springs soccer team battled back from three one-goal deficits, then finally got over the hump in overtime for a 4-3 win Tuesday at Tonganoxie.
The Braves fell behind, 3-2, when Tonganoxie's Evan Stilgenbauer scored with 27:23 left in the second half, but they forced the third tie of the game on a goal by Travis Dooley less than four minutes later. Neither team scored again before the end of regulation, so the game went into sudden-death overtime.
Robert Glenn ended the game when he headed a ball into the net with 3:25 left in the extra period. With the win, the Braves avenged an overtime loss to the Chieftains last season.
THS needed just more than five minutes to get on the scoreboard in the first half, as Asher Huseman scored on an assist from Stilgenbauer with 34:43 left in the period. A back-and-forth battle ensued for several minutes, but the Braves got even on a shot by Cody Pierce with 18:37 left.
Huseman scored again off another Stilgenbauer assist with 16:30 remaining, but Glenn made it 2-2 just 39 seconds later. Neither team scored again before the break.