Fall sports preview: High expectations in large supply at
BLHS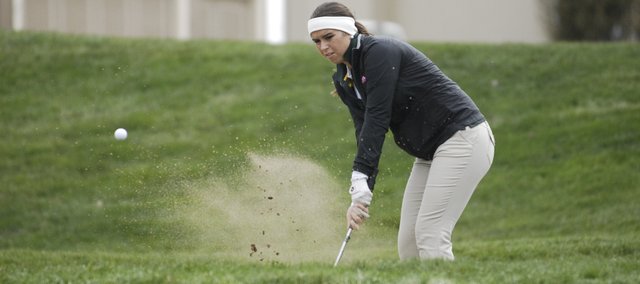 With fall sports in full swing, it's time to take a look at what to expect from Basehor-Linwood's fall sports programs this year.
Expectations remain high for the cross-country and volleyball teams after each received tastes of the state tournament in 2012. Meanwhile, a crop of young athletes will need to step up for the school's golf and soccer teams after a glut of graduations hit the latter.
Stay tuned this season for weekly round-ups of each team's highlights and nominate candidates for a new Athlete of the Week feature, which will debut on Sept. 12.
Cross-country
The Bobcats enter 2013 ranked just outside the top seven in the Class 4A boys cross-country standings released by the state's coaches association. Seniors Luke McGowan and Mark Vitt return to lead the Bobcats after representing BLHS at state. Seniors Johnny Fulkerson and Tanner Tavis will return alongside juniors Casey Jones and Daniel Tady with freshman Zack McKnight rounding out the boys lineup.
"We have an incredible group of returning letter-winners from last season," assistant coach Brock Peterson said.
For the girls, junior Quinnlyn Walcott is back after being one of the Bobcats' top performers all season for the girls. Walcott posted a sixth-place finish in the Kaw Valley League meet after a time of 16:14. Meanwhile, seniors Rebecca Carroll, Ally Laney and Sara Rehm further bolster the girls' upperclassman leadership. BLHS is also counting on freshmen Calder Hollond, Erin Leach, Claire Walsh and Emily Crutchfield to step in and compete right away.
"For both teams the expectations are plain and simple: qualify a team for state," Peterson said. "Don't confuse simple for easy because we face off against some of the top teams in the state at our regional meet."
The Bobcats seek to send just the second boys team in school history — and first since 1982 — to state and first ever on the girls side. BLHS opens the season
Girls golf
Coach Bruce Courtney returns just three girls with one year of varsity experience. Back for the Bobcats are multisport athletes Julie Lough, Candice Jennings and Marriah Clayton. Lough, Courtney said, hopes to draw attention from college coaches this season.
Lough led the Bobcats with a 106 at the season-opening Cat Classic on Aug. 28 at Alvamar Golf Course in Lawrence. Jennings wasn't far behind, posting a 108.
Boys soccer
First-year coach Erik Jones takes over for Austin Knipp. Last year, BLHS overcame an early 1-4 start to finish a goal short of the state tournament. BLHS will be tasked with replacing All-KVL grads Trey Kincheloe, Sammy Seaton, Juho Luomajoki, Cameron Kennedy and Gage Zumbrunn.
One of the Bobcats' top returners is junior Zach Ferguson, who was second on the team with seven assists as a sophomore in 2012. Ferguson also scored seven goals en route to an honorable mention nod on the All Kaw Valley League team.
The Bobcats (1-1) opened their season with a 6-0 win against Maranatha Christian Academy on Aug. 30 and fell 4-0 to Bishop Miege on Tuesday.
Volleyball
After one of the best years in school history, third-year coach Amy Irvin has set her sights even higher, seeking to return the Bobcats to the Class 4A state tournament. Irvin, who was named by the Kansas Volleyball Coaches Association as small class coach of the year in 2012, must find a way to replace the graduated Brandi Stahl, Jamie Johnson, Haley Waters and Samantha Rutherford.
"The girls who are returning to varsity this coming season definitely have much higher standards due to our successful season last year," Irvin said in June. "I have six girls returning and they know what it takes and want to push themselves and our team to get there. They will accept nothing less than success."
Stepping up over the summer has been junior Abbey Mellies and sophomores Madi Osterhaus, Jamie Weible and Courtney Robinson, the team's setter. They'll complement seniors Allison Heinen and Hailey Robinson, who figure to pick up where last year's senior class left off.
BLHS kicked off its season with a perfect 3-0 showing against Baldwin, Eudora and Bonner Springs on Tuesday.