BLHS

downs Ward in football opener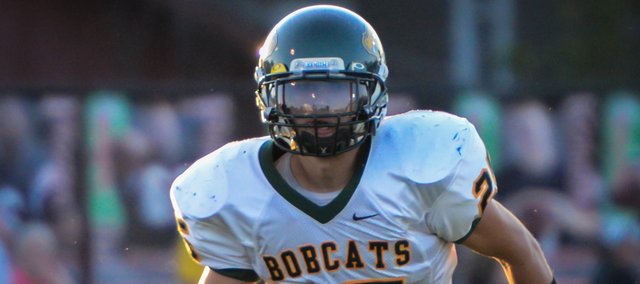 Going into the first game of the season, nerves were at an all time high. With last year's seniors long gone, the Bobcats became a new team.
Basehor-Linwood's football team defeated Bishop Ward. 27-6, on Friday.
After a pre-game warm up, junior Nathan Kenton was upbeat and ready to play.
"We've really come together as a team in these past couple of weeks," Kenton said. "It's going to be a good season, I can tell."
Right before the coin toss, assistant coach Travis Inlow gave his input on the impending season.
"We're expecting a great season opener," he said. "Hopefully we can start the season off right. As long as we can fight back some pretty big injuries, it should be a great couple of months."
Throughout the entire first quarter, senior quarterback Tim Sanders set the pace with multiple deep passes.
Toward the beginning of the second quarter, junior Zack Carter ran for a seven-yard touchdown. Following the touchdown, senior Broc Lindsay scored a two-point conversion.
Nearly right after the Cyclones' following kick off, sophomore Jahron McPherson intercepted the ball and ran for a touchdown; however, a penalty was called, citing illegal blocking.
That didn't slow the Bobcats down.
Before the first half was over, BLHS had scored an additional two touchdowns. The first was by McPherson, with no flag on the play this time. Senior Alex Jackson later ran in a four-yard touchdown, putting the Bobcats up, 20-0, at halftime.
Senior Layne Roberts had four tackles, one sack and two tackles for loss. Senior Nick Chaney also had one sack, as did juniors Dean Cochran and Tyler Kendrick.
The second half began with less action that the first. With multiple incomplete passes, the Bobcats still managed to stay up on Bishop Ward.
As the third and fourth quarter progressed, the score stayed the same. That is, until Sanders scored another touchdown, setting the score at 27-0.
In other news, seniors Jay O'Bryan, Bret Fritz and Logan Potts were held out with injuries.
BLHS (1-0) will next play at Piper (0-1) at 7 p.m. Friday.
Score by quarters
BLHS 8 12 0 7 — 27
BW 0 0 0 6 — 6
Rushing
BLHS: Sanders 9-43, McPherson 1-6, Carter 5-8, Jackson 16-56, Phillips 4-11, Roberts 6-11, McCleary 3-7
Passing
BW: Barnhart 14-17, Brull 8-minus-17
Passing:
BLHS: Sanders 9-20-0 101
BW: Brull 7-14-2 53, Barnhart 0-1-0 0
Receiving
BLHS: Inlow 1-22, McPherson 3-26, Lindsay 1-14, Carter 2-18, Henry 2-21
BW: Barnhart 2-15, Tucker 1-38, Rose 2-minus-5, Paulakovich 2-5