Lyric opera presentation Thursday in
BLHS

auditorium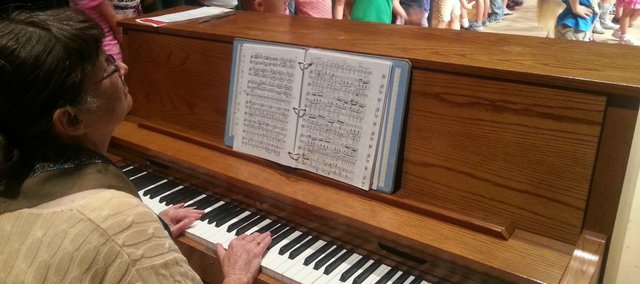 Students throughout the Basehor-Linwood school district have been hard at work preparing for a stage production, and the public will have the opportunity to see the end result Thursday night.
Several local students will take their places on stage for a lyric opera presentation of "Little Red Riding Hood," sponsored by the Lyric Opera of Kansas City. The show is scheduled for 7 p.m. in the BLHS auditorium. There is no charge for admission.
"The way it works is, all of the kids are in the children's chorus and they all play forest creatures," said Dr. Robert McNichols Jr., an education associate at the Missouri-based organization. "Then, we have professional opera singers come and play the main parts, which are Little Red, Granny and the Big Bad Wolf. They have solos and they do a bunch of dialogue to kind of tell the story."
McNichols will play the part of Big Bad Wolfgang at tonight's performance. Little Red Riding Hood will be played by Laura Lowry and Granny will be played by Lindsay James.
On the first day of rehearsal, 55 students ranging from kindergarten to ninth grade showed up to audition for parts in the chorus. That's nearly twice the amount of a normal school production, but according to McNichols, some local help has accommodated for the large turnout.
"We have a stage director and some parents helping, so they're giving us a little bit of assistance," he said.
Students have spent the last two weeks rehearsing with the opera singers. The production was organized by staff at the Kansas City organization.
School productions are generally altered from the opera's original format, often making it more youth-friendly and easier to follow.
"One of the things we've got to figure out is how to get kids turned on to opera," stage director Linda Brand said. "The tunes are so much fun, but you don't necessarily have time to deal with all the languages and vocal demands. But there's so much that they can grab onto and have a good time."
The Lyric Opera group works with several schools each year to produce shows. It primarily works with schools in the Kansas City area, but has traveled as far as Joplin, Mo. Additionally, the organization offers two camps each year — one in March and another in the summer — for youths ages 8-18.
"As there is more time, we can tell them all those different stories (about opera), but this is just getting out and letting people hear and have fun with the music," Brand said. "Opera is a ball. It's not just all work and serious."
This year's production is funded by the Basehor-Linwood Education Foundation. Basehor-Linwood has had similar groups come to the district in previous years. The Missoula Children's Theatre, based in Missoula, Mont., used to make a trip to Basehor, but that was discontinued after the 2009-10 academic year.