Meatball madness: Business has unique focus
Less than a year ago, Phillip Boyer was working in his wireless phone store in Leavenworth, unhappy with where the industry was going. After 15 years of working in that field, Boyer decided to make a change.
He jumped ship and started a new business in a new industry. The focus of his new career? Meatballs.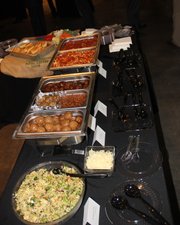 "It's a passion," Boyer said. "At some point in life, everyone has to pursue their dream. Who knew mine was meatballs?"
In the following months, Boyer shut down his wireless phone business and started up a catering service, Boyer's Artisan Meatballs.
After a few months of renting time to operate out of a restaurant kitchen in Basehor, Boyer took the opportunity to move to a space of his own at 216 E. Second St. across from City Hall in downtown Bonner Springs.
Choosing the location for his business wasn't hard. Boyer grew up in Bonner Springs and lives in Shawnee, just five minutes away from his store.
Now, Boyer works on the business full time, trying out new recipes, grinding meat or creating sauces. Making the meatballs is the easy part, Boyer said. It's something he's been perfecting for the last 10 years.
Making meatballs
Boyer's love of making meatballs began with a potluck at his wife's office. She didn't know what to make, so he whipped up a crockpot full of meatballs, what would become his original recipe.
"In about 20 minutes, the crockpot was empty," Boyer said. "For the next one, they were requesting the meatballs. One thing led to another, and we thought this was an opportunity for a business."
Boyer's Artisan Meatballs currently offers 30 varieties, including the Reuben, Philly cheese steak and German, which includes beer and sauerkraut held together with pumpernickel bread. The meatballs are made from either pork, beef, chicken, seafood or vegetables.
Making the meatballs is a three-day process: First, Boyer lets the ingredients set for a day in order for the flavors to meld. He grinds the meat and mixes the ball together and lets it sit for another day. On the third day, he cooks the meatball.
"We grind a lot of our own meat, we make our own sausages and sauces," Boyer said. "Every recipe is my own."
Coming up with the recipes is a process, too.
Boyer takes suggestions from customers, researches ingredients and creates new varieties on an ongoing basis. He recently created the Brazilian meatball. He started the process by researching spices that are prevalent in Brazilian cooking. Then, he experimented with different spices until he came up with a few combinations that work. He then asked his family and friends to test them out.
"I make changes and modifications until we come up with something we think is really good," Boyer said. "That really is the fun part of the business: creating and seeing someone's face light up with something you made."
Moving forward
In the time that the business has been in operation, Boyer's Artisan Meatballs has catered weddings and had booths at events such as Tiblow Days in Bonner Springs and the Spinach Festival in Lenexa. He has also done corporate catering, bringing a few dozen meatballs and hoagies to office lunches.
This Saturday, Boyer will hold a public taste-testing event at the Irene French Community Center in Merriam. Boyer said most of the attendees will be interested in having meatballs at their bridal shower, rehearsal dinner or cocktail hour during their wedding. People are always searching for something new and fun, he said.
"If nothing else, meatballs are fun," Boyer said. "It's hard to not be in a good mood when you're eating a meatball."