Miscues cost
BLHS

football in 12-6 loss at Piper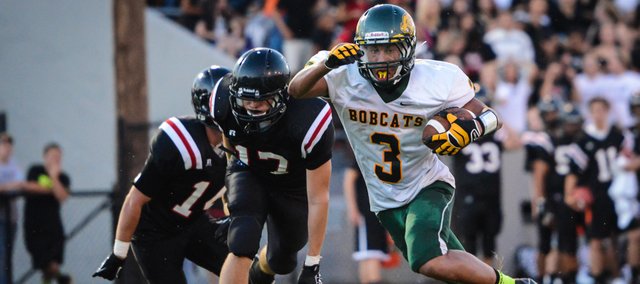 Two mistakes.
That's all it took to send the Piper football team to a 12-6 conference victory against Basehor-Linwood on Friday.
A missed snap in the first quarter put Piper within the 20-yard line and led to a touchdown. Another poor snap in the fourth quarter generated similar results and led to the Pirates' second touchdown.
"We had some very poor punt snap issues," BLHS coach Steve Hopkins said. "We felt like our defense would match up well against them and I think that is exactly right. We just did not generate enough offense."
With four new starters on the line, the Bobcats were struggling with basic running and blocking fundamentals.
"We did not pass protect and we had receiver breakdowns," Hopkins said. "We basically shot ourselves in the foot many times and a lot of that was Piper."
One of the few times the Bobcats did pass protect was in the fourth quarter when quarterback Tim Sanders threw a 17-yard pass to hit receiver Jahron McPherson for the only Bobcat touchdown of the evening.
The Bobcats (1-1) did manage 13 first downs to Piper's nine.
At the other end, the Bobcat's held the Pirates (1-1) to less than 100 total yards and were an explosive team against the run.
"I was really pleased with our pass defense," Hopkins said. "We only gave up two and that was over our heads."
Tremendous pressure on the Piper offense contributed to quarterback Tanner Eikenbary being sacked five times, three times by senior John Hopper.
Nick Chaney on the defensive line had at least four tackles for lost yards and played every position on the line.
Seniors Jay O'Bryan, Bret Fritz and Logan Potts remain sidelined with injuries, while junior defensive lineman Cody VanGosen was sidelined this week as well following an injury he sustained during the Bishop Ward game.
"We've lost four starters on our line in the last eight days and unfortunately we're facing the juggernaut this coming week," Hopkins said.
BLHS will host defending KVL champions Mill Valley on Thursday.
"It's a short week of preparation but the kids are really looking forward to it and it'll be good to be at home. What a great challenge," Hopkins said. "We'll have to play hard and work on getting better."