BLHS

volleyball sweeps Tonganoxie on road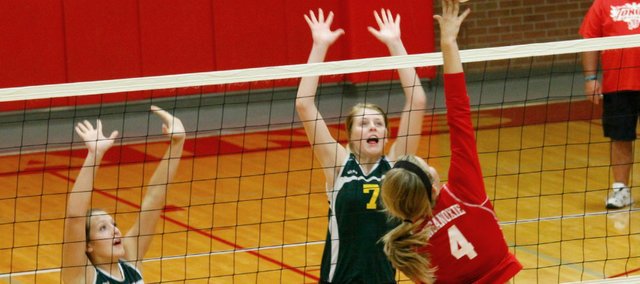 Tonganoxie — A strong first set and two late scoring runs powered the Basehor-Linwood volleyball team to a sweep Tuesday at Kaw Valley League foe Tonganoxie. Coach Amy Irvin's squad won the match in three sets, 25-13, 25-23, 25-21.
After grabbing an 8-5 lead early in the first set, the Bobcats took control with a 9-0 run from which the Chieftains couldn't recover. The teams traded points for the remainder of the set, but THS failed to cut into the deficit.
Tonganoxie seemed poised to even the match in the second set when it scored four straight points to take a 22-20 lead. The Bobcats had other plans, though, as they rattled off a 5-1 run of their own to claim the set and a 2-0 lead.
Both teams struggled to gain an advantage in the final set, as neither team led by more than two until THS took a 20-16 lead. However, just like in the second set, BLHS put together a late comeback to cap off the sweep. The Bobcats scored the next seven points — part of a match-ending 9-2 run.
BLHS will continue league play at 6 p.m. Sept. 24 when it travels to Bishop Ward.