Veterans connect with kids through class visits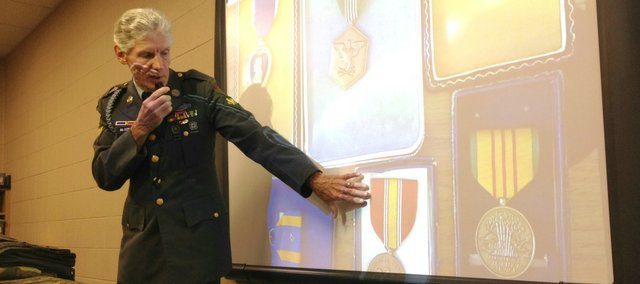 "Did you ever climb a tree?" a girl asked from the back of a fifth grade classroom at Basehor Intermediate School Friday morning.
The girl posed the question to three Vietnam War veterans and members of the Basehor Veterans of Foreign Wars post. Members of the post have been visiting the elementary school and Basehor Linwood High School for close to a decade, passing on their experiences and lessons learned from the war.
Friday's visit was the first of the 2013 school year and the three fifth grade classes that joined together to listen to Army veterans Phil Jenkins and Steve McCown and Navy veteran Tom Steele were rapt with interest. After each veteran spoke, students' hands shot up in the air.
The answer to the tree question was a "no," but stories of jumping out of helicopters sufficed.
"How heavy was your full gear?" another girl asked before raising her eyebrows to hear that each soldier carried more than 60 pounds of gear.
Steele painted a picture of his role as a gunner's mate with the Navy as he told stories about being on ships as they faced 40-foot ocean swells in the South Pacific.
"Wow," some students said, unable to contain themselves. Others were amazed to hear that each of the three veterans had to travel over 10,000 miles, 55 hours of travel time, to get to Vietnam.
"More than anything, these visits just make the kids aware of their country's history," VFW post commander Jenkins said after the presentation.
McCown described foot soldiers' sleeping conditions and daily eating habits. He also brought the various medals he earned during his service, including a Purple Heart and Bronze Star.
After briefly describing the difficulties of war, McCown said with a serious face: "We paid a price to have the freedom we have today."
All of the kids thanked the veterans after the presentation and some approached them to ask follow-up questions.
The VFW regularly works with Basehor Intermediate School for fundraisers and other events including the upcoming Veteran's Day holiday in November. Jenkins even passed on an assignment to the fifth-graders in which they will each write a paragraph describing what the American flag means to them. The best ones will be read at the Veteran's Day parade.
The VFW recently announced that it will continue its monthly public breakfast on the second Saturday of each month, but it had to cancel its second event on the fourth Saturday of each month because of low attendance. Bingo night will continue to take place on the first and third Saturdays.